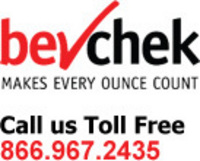 I'm looking forward to the opportunity to work with a growing technology company
Vancouver, BC (PRWEB) April 28, 2009
Ronald Zien, President of Bevchek Global Systems Inc., the leading provider of beverage control and Liquor Monitor flow metering technology solutions for the restaurant, hotel and bar industry, announced today the appointment of Steve Daves as Vice President Sales, USA & Canada.
A graduate of the Georgia Institute of Technology, Steve Daves has been involved in the hospitality industry for over 10 years with extensive experience in building a successful dealer channel for a major hospitality (POS) point of sale manufacturer.
"I'm looking forward to the opportunity to work with a growing technology company," comments Steve Daves. "Bevchek has a very exciting product and I know it will add significant value to the product lines offered by many of the hospitality POS resellers that I have worked with over the last 10 years."
"Steve has a strong entrepreneurial spirit and solid business relationships with the reseller operators in this marketplace," stated Zien. "We're thrilled to be able to work with Steve and leverage his drive and experience.
About Bevchek Global Systems Inc.:
Bevchek Global Systems Inc., the first company to introduce a real-time, web-based Draft Beer Control System to the hospitality industry, recently introduced the Bevchek Wireless Liquor Control System. This new, state of the art system uses the most accurate and reliable technology available today.
The Bevchek Draft Beer and Wireless Liquor Control Systems combine to provide restaurant and bar owners with detailed, real-time data comparing sales from their Point of Sale relative to real-time pours captured through Bevchek's advanced flow metering technology. The resulting data is delivered to owners and management in a meaningful format, accessible anytime from anywhere via an Internet connection.
The challenge to restaurant and bar operators trying to implement controls is doing so without impacting the guests' experience. Bevchek has achieved this through their liquor monitoring technology that works in the background and is virtually invisible to both bar staff and guests.
Bevchek Global Systems Inc. is based in Vancouver, Canada with corporate offices in Phoenix, Arizona and Toronto, Canada. By providing operators with a simplified data reporting mechanism that highlights slippage and data trends on a minute-by-minute basis, Bevchek's real-time, web-based system helps create operational transparency, complete accountability, prevents bar theft and maximizes bar profits.
###