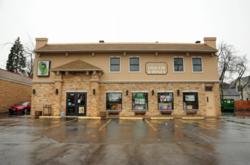 It is hard to believe this type of Menu is actually available at a Wine Tasting
Buffalo, New York (PRWEB) February 13, 2013
Gates Circle Wine & Liquor Announces The Most Unique Food & Wine Dinner on Sunday, February 17th at Butterwood Sweet & Savory in The Hotel Lafayette. What is unique about this event is that is combines the ever popular Wine Tasting of one of the Top Liquor Stores in Buffalo with a Fine Dining Menu and one of the most popular Chef's in Buffalo.
Gates Circle Wine & Liquor are having a Food & Wine Dinner at Butterwood Sweet & Savory in The Hotel Lafayette on Sunday, February 17th at 5pm. There will be resident expert, Dave Zmitrewicz and Chef Scott Donhausser who will sit down and try all the wines personally to ensure the most appropriately delicious combinations. There will also be a chance for attendees to pre order any of the wines tasted that evening at largely discounted prices.
It is hard to believe this type of Menu is actually available at a Wine Tasting but here is a sampling:
The Menu
Aperitif: Mitolo Vermentino paired with assorted hors d'oeuvres.
First Course: Di Lenardo unoked Chardonnay paired with Scallop Nicose, French beans, hard boiled quail egg, spiced olives & fried anchovy.
Second Course: Tscharke Tempranillo paired with Aussie paella with crawfish, Tasmainian salmon roe, loin of rabbit, duck sausage and goat cheese saffron rice.
Third Course: Heartland Dolcetto/Lagrein paired with smoked lamb loin, sour cherry and green peppercorn sauce, potatoes Anna, buttered brussell sprouts.
Dessert: Cline Late Harvest Mourvedre paired with sticky bread pudding with rhubarb ice cream
About Gates Circle Wine & Liquor Store
Founded by Jack Carscallen shortly after Prohibition, Gates Circle Wine & Liquor Store is a family owned business operating under third generation management.
The history of the store is to bolster the community and stay loyal to customers by providing a large selection of rare and fine wines with the staff to back them up. The Temperature Controlled Wine Room is dedicated to high end vintages and the consumer can browse the employee picks and find a palate of any choosing. The staff works hard at tasting and comparing, doing the best job to stock shelves with the best bang for the buck, no matter what that buck may be. It is hard work, but Gates is willing to do it so the consumer doesn't have to. The Staff is incredibly knowledgeable, intelligent, honest, and friendly. Visit Gates Circle Wine and Liquor at http://www.gatescircleliquor.com .