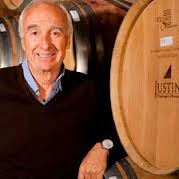 He has also received the James Beard Foundation's Great American Winemaker Award
Buffalo, New York (PRWEB) April 09, 2013
Gates Circle Liquor Store is proud to announce an in store bottle signing by Justin Baldwin, co founder of Justin Winery. On Wednesday April 17 Mr. Baldwin will be personally signing bottles of his wines purchased by our customers between 5:30pm and 6:30 pm. The Gates Circle staff have been very big fans of the Justin wines for sometime and have passed on that passion to customers who have purchased so much of his products that Mr. Baldwin's first stop after arriving in Buffalo will be at Gates Circle Liquor store.
A former investment and international banker Justin and his wife Deborah founded Justin Vineyard and Winery in 1981 when they purchased 160 acres west of Paso Robles on California's Central Coast.
The Justin wines have received many awards over the years including the prestigious Pichon-Lalande trophy for the world's best blended red wine, Wine Spectator's top ten wines of the world and one Wine Spectator's top 5 non-Napa Cabernets of California.
Mr. Baldwin himself has received as much acclaim as his wines. Robert Parker Jr. of the Wine Advocate has called him one of the "Wine heroes of the year" and "the star of Paso Robles". He has also received the James Beard Foundation's Great American Winemaker Award as well as being named Wine Enthusiast's Top Cabernet and Blended wine producers list for 7 years running.
About Gates Circle Liquor
Gates Circle hosts many events and is proud to be sponsoring this event as one of the top selling Buffalo Liquor Stores. Gates Circle is working on its third generation of quality and expertise.
Don't miss this rare opportunity to meet one of America's great wine producers up close and personal.