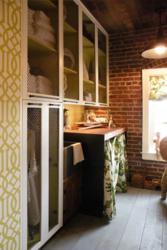 The space plays with the utilitarian nature of a laundry room, with a more delightful pursuit of entertaining guests when gathering for a movie
San Francisco, CA (PRWEB) May 02, 2012
Marin County based interior designer Lisa Bakamis's "Press Room" at the 2012 San Francisco Decorator Showcase is a wild and chic interpretation of laundry room meets wine and spirits bar. The laundry room, located adjacent to the media room, is the perfect space to multi-task. The space plays with the juxtaposition of the utilitarian nature of a laundry room, with a more delightful pursuit of entertaining guests when gathering for a movie. This "jewel box" of a space evokes warmth and energy, with fresh citron accents, bold pattern, and eclectic blends of rustic industrial elements, topped off with an antiqued feminine finish. I'll drink to that.
Some of the unique components include:

Concrete cast wood plank flooring by Sonoma Cast Stone – the floorboards were cast in concrete from actual wood planks, including the wood graining and imperfect wood elements.
Wood plank ceiling by Urban Woods – the ceiling mirrors the floor but with real reclaimed wood planks that add to the rustic vibe harmonizing beautifully with the reclaimed wood sink vanity, laundry enclosure and over scale bar cabinet.
Cleverly concealed appliances and storage -built in refrigerator, storage drawers and shelving, wine and liquor storage, and top shelf for storage of glassware and bar accessories make the space functional and efficient.
Visit Lisa's third floor room at the 2012 San Francisco Decorator Showcase. It is open from April 28-May 28, 2012 at 2020 Jackson Street in San Francisco. The house is open everyday of the week except Mondays. The hours are: Tuesday, Wednesday, and Saturday: 10:00 a.m.–3:00 p.m. (last entry), Thursday and Friday: 10:00 a.m.–7:00 p.m. (last entry), Sunday and Memorial Day: 11:00 a.m.–4:00 p.m. (last entry), CLOSED MONDAY (except Memorial Day).
Tickets are $30 each, seniors $25. More information on this annual charitable event benefiting the University High School scholarship fund, can be found at http://decoratorshowcase.org/.
About Lisa Bakamis
Lisa Bakamis, of Lisa Bakamis Interior Design, is driven by her passion for creating environments that reflect a distinct eye for the blending of color, pattern and texture. She feels that truly inspiring interiors are comprised of these 3 elements, counterbalanced by great scale, unusual accessories, and an element of surprise!
Lisa formed Lisa Bakamis Interior Design in June of 2011 after 10 years in the design industry. Having worked as a lead designer for several highly creative and respected firms, she felt inspired to start her own design practice. Based in Marin County, in the San Francisco Bay Area, she specializes in high-end residential and commercial interiors, and staging for real estate.
She is thrilled to be participating in the 2012 San Francisco Decorator's Showcase for a second consecutive year. To view her work online, visit http://www.lisabakamis.com.