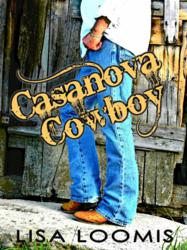 " I couldn't put this book down! So entertaining and honest but not your typical romance novel. What two people go through for love! I would recommend that everyone read this novel and anything else authored by Lisa Loomis. " - Review from Amazon Reader
Park City, Utah (PRWEB) May 03, 2012
CASANOVA COWBOY starts where a life altering mistake makes Morgan realize she needs to look inside herself and change things, but change is never easy. In CASANOVA COWBOY she moves from young adult to adulthood and yet she still has hard challenges and choices to face.
Morgan Mallory's choices haven't always been good ones. The day she steals her boyfriend's car, in an act of revenge, turns out to be one of her worst. The event sets in motion her realization that something big has got to change. Despite her strength and sassiness she's at a crossroad, struggling to understand herself, her relationships, and the meaning of love. In a desperate attempt to force change she moves to a small resort town in the mountains for the winter. Ryan, a local mild mannered urban cowboy type, befriends her. As he deals with finding his own way in life an unconventional friendship develops. The twisting, turning path they go down together will forever change Morgan's life in ways she never expected.
Casanova Cowboy is available on Amazon.com in Paperback and Kindle and will be available on iTunes via iBooks, and LuLu.com after June 1, 2012. Headquartered in Park City, Utah, Lisa Loomis Books is committed to the interests of your audience with products/services available in North America, Australia, Europe, the United Kingdom and Japan, as well as on the Internet.
Casanova Cowboy is a work of fiction. Names, places, incidents are either products of the author's imagination or used fictitiously. Copyright 2012 belongs to the author of this book, Lisa Loomis. The book author retains sole copyright to her contributions to this book.
Contact: Lisa Loomis
Books Name: CASANOVA COWBOY
ISBN-10: 1475047517
ISBN-13: 978-1475047516
ASIN: B007IORAIQ
Company: Lisa Loomis Books
Telephone Number: 435-647-7924
Email Address: lisa(at)lisaloomisbooks(dot)com
Web site address: http://www.lisaloomisbooks.com
Lisa Loomis Books on Facebook: http://www.facebook.com/LisaLoomisBooks