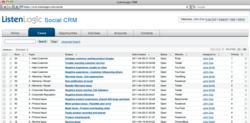 Philadelphia, PA (PRWEB) May 03, 2011
Recognizing the increasing need for large enterprises to listen and respond to social media in real-time, ListenLogic today announced the general availability of its Enterprise Social CRM solutions. Currently serving Global 1000 brands, Enterprise Social CRM leverages ListenLogic's proprietary Integrated Social Intelligence Platform™ to help large organizations efficiently scale their customer service engagement and marketing outreach operations.
"Social media usage is exploding and companies need to engage with customers, where they participate, in real-time," said Mark Langsfeld, Founder & CEO. "Customers are no longer on the phone with customer service agents, they're using social media to seek advice and openly share experiences. For large enterprises, our Social CRM solutions make it possible to handle millions of customer interactions through social media."
ListenLogic Social CRM is a highly scalable customer relationship management solution that automatically collects, prioritizes, and categorizes all social media conversations, beyond Twitter and Facebook, in real-time. These conversations are then delivered to representatives based on business rules from customer service issues to marketing outreach opportunities. For example, ListenLogic Social CRM can collect tens of thousands of relevant posts daily for a brand, sort and find only mentions from highly irate customers, and send these prioritized cases to specialized customer service representatives for immediate resolution. Integrated with current CRM solutions, ListenLogic Social CRM can identify brand and future customer opportunities online and send these to marketing and outreach teams.
"As the social media boom continues and the social data firehose grows, companies are struggling to collect all the conversations and triage the outreach opportunities in a timely manner," states Vincent Schiavone, Co-Founder & Chairman. "The longer a negative issue remains on the web, the potential for damage increases. At the same time, the longer a company waits to act on an opportunity, the opportunity can go away. ListenLogic Social CRM enables the large enterprise to get the right information to the right people at the right time."
ListenLogic Social CRM delivers prioritized rule-based cases and opportunities through an easy-to-use CRM solution that integrates with traditional customer service and marketing operations. When integrated with call center operations, ListenLogic Social CRM has shown to be ten times more efficient than manual social media sifting and data triaging.
Further information on ListenLogic's Social CRM can be found at: http://www.listenlogic.com/social-crm
About ListenLogic
ListenLogic is a leading social media intelligence and analytics company that helps Global 1000 companies manage risk, engage with customers and drive innovation. ListenLogic's Social Listening Intelligence Center (SLIC) provides enterprises with real-time reputation monitoring and response to manage the daily corporate threats and opportunities that emerge from social media. ListenLogic Social CRM intelligently triages the social media firehose for real-time customer engagement and marketing outreach. ListenLogic's Consumer Insight products deliver deep understanding of consumer attitudes and preferences to help drive product and marketing innovation. ListenLogic Health, a dedicated help division, specializes in providing social media intelligence to pharmaceutical, health and wellness companies. For further information, visit http://www.listenlogic.com | http://www.listenlogic.com/blog, or http://twitter.com/listenlogic
###