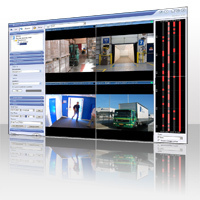 ...the entire process of adding cameras and configuring video for recordings has become extremely simple and efficient..."
Markham, ON (PRWEB) February 18, 2010
Litco Technologies, Canada's only certified distributor for Milestone Systems and specialized security and surveillance products, announces the availability of the open platform IP video management software, Milestone XProtect™ Enterprise 7.0.
Milestone XProtect Enterprise is a world-leading IP video management solution that handles unlimited numbers of cameras, servers, users and sites. Distributed server architecture optimizes bandwidth usage, keeping video data traffic between all the elements to a minimum. Version 7.0 will provide security system administrators with significant improvements through an intuitive new Graphical User Interface (GUI) and a series of powerful tools for ultimate usability:

System configuration wizards quickly set video quality, online scheduling, frame rates, storage, archiving schedules, and more
Automated device discovery uses fast Universal Plug-and-Play (UPnP) and broadcast detection in addition to IP range scanning
Smart bulk configuration options apply to both devices and users
Adaptable application behaviour guides novices and aids experts in optimizations
Export or import system and user configuration data for backups or multi-site cloning
Import off-line configuration data including camera definitions
Rollback to previous configurations is easy with automatic system restoration points
"With the new system configuration wizards and automated device discovery features, the entire process of adding cameras and configuring video for recordings has become extremely simple and efficient," states Mike Berdan, Product Manager for Litco Technologies. With this added simplicity, configuring 100 cameras on the network will only take a few minutes. "That's a huge time-saver for larger security systems, and only one of the numerous administration tools available." In conclusion; the configuration wizards and automatic device discovery make it the easiest video management solution to install and use.
About Litco Technologies:
Litco Technologies distributes exceptional security products to its customers throughout Canada with innovative products, technical support and system integration. Since 1996, Litco has offered cutting-edge technologies to our dealers with the innovative use of IP technology. Our services and products are geared exclusively to IP cameras, domes, housings and video recording software that is widely used in government and commercial applications.
Litco Technologies is the only certified distributor of Milestone Software in Canada.
###