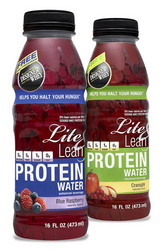 Our new delicious, hunger curbing Lite & Lean products are a perfect fit for those looking to maintain proper nutrition and health
Carlsbad, CA (PRWEB) June 24, 2008
Water is essential for healthy living and plays a vital role in the proper functioning of the human body. Combine water with whey protein, dietary fiber and amazing natural flavors, and you have a winning formula. With in-depth product development and backed by extensive research, Designer Whey is pleased to announce the launch of their new line of great tasting nutritional Designer Whey Lite & Lean protein drinks and powders.
"I am a Weight Watchers® member and wanted to let you know how much I love the Lite & Lean Protein Waters. With all of the Lite & Lean line being Zero Points® per serving***, I can take a couple of them a day to curb my hunger," Ms. Wade of Oceanside, CA.
Designer Whey flavorful and functional Lite & Lean waters and whey protein powders will help fitness enthusiasts and on-the-go women get their daily intake of protein to optimize their workouts and increase their daily energy in an easy-to-use format. Great tasting Lite & Lean drinks and protein powders can be used in the gym, carpool lane, the office, on a business trip or in the comfort of one's own living room.
Ground-breaking products
"Our new delicious, hunger curbing Lite & Lean products are a perfect fit for those looking to maintain proper nutrition and health," commented David Jenkins, Founder and CEO of Next Proteins. "We are excited to introduce new groups to great tasting whey protein drinks and powders. Lite & Lean products are perfect to increase energy, use in daily weight management plans and to boost the impact of workouts."
The exciting new Lite & Lean whey protein products will help curb hunger cravings. Featuring Protein2GO™ Paks and 12oz canister formats as well as the Ready-to-Drink bottles with just 35 calories, 5g fiber, 0g fat and 5g of Designer Whey protein, they are perfect for those looking for tools to achieve their weight loss.
Weight Watchers Flex Plan® Members Get Boost From Designer Whey
Members of the Weight Watchers Flex Plan should check out Lite & Lean protein products as a high fiber, low calorie, great tasting snack with extremely low point values.
The Lite & Lean Protein Drinks are available in Blue Raspberry and Cranapple flavors. Lite & Lean Protein Powder products are available in two flavors: Raspberry Açai and Mixed Blueberry.
About Whey Protein & Designer Whey
The Designer Whey vision is to change the "Whey" America feels about protein by providing consumers with great tasting, healthy whey-based products that improve their healthy lifestyles.**
Since 1993, Next Proteins has pioneered the manufacture of a full line of branded consumer whey-based products, including powders, bars and beverages. Next Proteins manufactures the industry's best selling protein, Designer Whey, which powers the company's innovative, great tasting products such as Designer Whey Protein2GO™ and Designer Whey protein beverages.
Whey protein has been called the ultimate functional food. The revolutionary benefit of Designer Whey products is the utilization of Whey, a protein-rich liquid component of milk produced as a by-product of the cheese-making process.
Dedicated to research
Next Proteins, the makers of Designer Whey, have spent more than $10.3 million on research to match the perfect blend of nutritional whey protein with great taste.
Additional Designer Whey products
Other delicious Designer Whey products include Protein2GO Paks in unique flavors like Orange Mango, Pomegranate Fruit, French Vanilla and Double Chocolate.
Launching in 2008 are new Designer Whey Drinks which include Lite & Lean Protein Water, 100 Calorie Protein Water and Protein Blitz beverages. Consumers can also find traditional products such as 12.7oz canisters and 2 lb jugs of Strawberry, Chocolate, French Vanilla and Natural flavors on retail shelves nationwide.
Fitness enthusiasts who use Designer Whey protein products before and after workouts will experience better strength, better power, better muscle recovery, better health and performance.
Media members looking for additional information on Designer Whey's complete line of protein powders and drinks should visit DESIGNERWHEY.COM. You may also learn innovative ways to incorporate protein into current diet plans, meals and discover tasty protein shake recipes.
*Based on AC Nielsen sales monitoring for 52 weeks ending February 23, 2008, Designer Whey brand is #1 in Unit Sales for high protein powder in US-FOOD for 148 weeks straight.
**The current recommended dietary guidelines and practices in the U.S. support the use of dietary protein at levels above 1.5 g/kg per day or .68g/lb body weight/day (A150 lb woman needs 102 grams of protein per day) during weight loss. - Layman, Donald K., Journal of the American College of Nutrition
*** Weight Watchers® and Points® are registered trademarks of Weight Watchers International, Inc. The number of Points® provided here is based on published Weight Watchers International, Inc., information and does not imply sponsorship or endorsement of such number of Points® or Designer Whey products by Weight Watchers International, Inc.
###