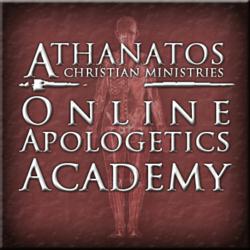 For centuries, the Christian Church led the way in the arts. As that role faded, the culture became more secular. Is there a relationship between the two? We think so.
La Crosse, WI (PRWEB) September 11, 2012
Some people believe that Christianity needs no defending. In fact, some think it has a privileged place in American society and needs to be taken down a notch. Athanatos Christian Ministries thinks it is the other way around. What is interesting is the manner in which ACM thinks Christianity should make its defense: through the arts and literature.
ACM's Executive Director, Anthony Horvath, suspects that many people haven't thought critically about their views, but instead received them through the culture. "We'd all like to think that we've considered each and every plank in our worldview's platform, but the truth is that we often take shortcuts. That's not bad in itself. What is bad is if we don't know when we do it, and don't 'fact-check' ourselves."
ACM bills itself as an apologetics ministry. 'Apologetics' comes from the Greek for 'to defend.' ACM isn't a ministry that is sorry; it is a ministry that aims to defend the Christian faith. In 2009, it launched their online academy of apologetics. In the winter of 2012, ACM created a 'literary apologetics certificate' program, tapping into the large number of people they were reaching through their annual Christian writing contests. The first director, Dr. Holly Ordway, designed the program, but then left to take a position at a Texas university.
ACM announced today that Dr. Ordway's position would be filled by two individuals. Ebony Murdoch and Mario Alejandre begin their duties with the online academy effective immediately.
Murdoch has a degree in journalism and was a long-time participant in ACM's artistic activities. Alejandre came highly recommended, with a degree in philosophy and another in apologetics from Biola University.
In a statement released by the academy, Alejandre cites his background and says,"I'm often challenged by the ideas raised by those involved in the arts. It takes courage to express one's self in and through the creative process. I'm excited to be a part of the literary apologetics program with Athanatos Ministries in hopes that I may serve others as they create work that belongs in the broader cultural conversation."
One of the apologetics academy's emphases as it relates to the arts is the insistence that Christian writers pay as much attention to their theology and biblical knowledge as they do honing their writing abilities.
Murdoch argues that this emphasis will help Christian authors grow as writers, "I believe that this program will be instrumental in preparing a new generation of skilled storytellers and poets to communicate the truth of Christ in imaginative ways. Participants will have a rare opportunity to strengthen their grasp of theology and apologetics while being steeped in the work of literary masters."
Horvath says, "For centuries, the Christian Church led the way in the arts. As that role faded, the culture became more secular. Is there a relationship between the two? We think so. God willing, our students will begin testing that hypothesis very soon."
The ministry also publishes a journal of literary apologetics at literaryapologetics.com.
Anthony Horvath, Mario Alejandre, and Ebony Murdoch are all available for interviews and can be reached through Mr. Horvath.