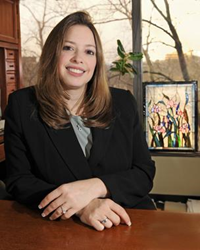 This is a wonderful opportunity to discuss and promote the role of women in the workplace, especially from the point of view of a litigation consultant
Overland Park, KS (PRWEB) April 08, 2014
Merrie Jo Pitera of Litigation Insights will speak at the annual meeting of the DuPont Women Lawyers' Network. The meeting will take place on April 8-10, 2014 in Wilmington, DE.
One session during the annual meeting will convene a panel of women engagement and account managers within the DuPont Legal Network to discuss their roles within their organizations, how to promote the role of women within their organizations, and the role of an in-house counsel helping to promote women in their organizations. Evelyn Brantley, Global Managing Counsel for Operations and Partnering for DuPont, will also participate in this panel, which is scheduled for the morning of April 9th.
"This is a wonderful opportunity to discuss and promote the role of women in the workplace, especially from the point of view of a litigation consultant," said Merrie Jo Pitera, "Jury consultants make up an important part of the legal community, especially the women who work with me here at Litigation Insights. I am incredibly honored and very excited to have this opportunity to help enlighten women from the legal community to the essential role women play at our company."
The DuPont Women Lawyers' Network is dedicated to promoting the success of female lawyers by creating an environment which promotes advancement through networking, recruitment, mentoring, and leadership. Its mission is to positively impact business by promoting legal excellence through the professional advancement, development, and success of the female lawyers who represent DuPont. Among its objectives are creating a positive, bias-free work environment for women; increasing the visibility of women within the network; and assisting female lawyers in developing business and increasing recognition of their achievements.
To find out more about Merrie Jo Pitera and Litigation Insights, visit the Litigation Insights website at http://www.litigationinsights.com. Those interested in the litigation consulting services can contact their headquarters located at 9393 W 110th St. #400, Overland Park, KS 66210 by calling 913-339-9885.
About Litigation Insights
Litigation Insights is a national, woman-owned company with more than 20 years of experience conducting jury research, developing trial graphics and assisting counsel with jury selection and case presentation during trial proceedings. As a full-service firm, the company provides everything from witness preparation and jury selection to trial graphics and courtroom technology. Its offices are located in Kansas City, Minneapolis, Dallas, St. Louis and New Jersey.