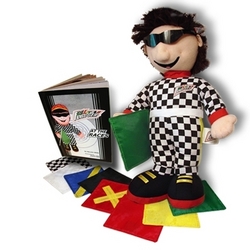 I plan to give the Little Flaggers out at our banquet in two weeks. I think the kids will love them because Little Flagger explains what the flags mean
Centerville, OH (PRWEB) December 6, 2007
Marylins Own Inc. announces the debut of its talking character Little Flagger, the latest product in the company's unique approach to teaching the sport of auto racing to children. Available only at the online store LittleFlagger.com, the Little Flagger talking character and accompanying book also help teach children to read and recognize colors.
Little Flagger, which comes with eight flags and the 2005 book ''Little Flagger at the Races,'' comes to life by saying the nine most-used racing phrases in NASCAR, Indy, Formula 1 and other circle track racing. When children push the doll's left wrist, he calls out, "Drivers! Start your engine!" (vroom, vroom, vroom, engine sound), "Green, green, green, let's go racing!", "Caution is out!", "Race is stopped!" and more.
In the book, Little Flagger takes his cue from the race official and waves the appropriate flag, from the green flag start to the yellow flag caution to the black-and-white checkered flag finish. For instance, when a wreck leaves debris on the track, a red flag comes out to let the drivers know the race is stopping for cleanup. By reading the book and listening to Little Flagger talk, children learn the correct flag to attach to Little Flagger's right palm – a fun, interactive way to learn auto racing rules and colors.
"I plan to give the Little Flaggers out at our banquet in two weeks. I think the kids will love them because Little Flagger explains what the flags mean," says Rhenda Whitworth Co-Owner of Humbolt Speedway, Humbolt, Kansas. "I also ordered two for my nephews for Christmas. Next season I plan to sell them at our souvenir stand. We have a lot of little fans who I think will really enjoy the Little Flagger."
"Little Flagger helps children understand the various colored flags used during the running of auto race events," comments Jerry Wahl, a member and club advisor of the Dayton Auto Race Fan Club, Dayton, Ohio. "Even though geared toward the young children, adults will enjoy the new arrival. Little Flagger would be a perfect gift for the child who has the need for speed."
Fun for race fans of all ages, Little Flagger offers a unique perspective on one of America's most beloved sports. The 11'' Little Flagger talking character doll, eight 3'' x 3'' race flags, and the 5'' x 7'' book "Little Flagger at the Races" are sold in a collector box at http://www.littleflagger.com .
Marylins Own Inc. has been in business since 2004 in Dayton, Ohio, sharing a passion for auto racing with a world of racing fans. For more information, visit http://www.littleflagger.com .
Marylin Millis
Marylins Own Inc.
937 291 5282
info(at)littleflagger.com
###