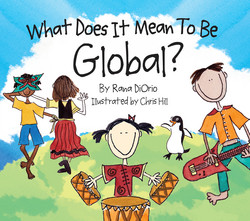 We are honored to be recognized three times in less than six months and believe this validates our mission, which is to bring thought-provoking stories to young children in a very playful and engaging way
Belvedere Tiburon, CA (Vocus) May 12, 2010
Many authors aspire. Major publishing houses expect it. But Bay Area based Little Pickle Press decided to just relish in it – today the independent publisher announces receiving its third accolade in less than six months – Finalist in the 2010 Benjamin Franklin Awards competition for What Does It Mean To Be Global? Named in honor of America's most cherished publisher/printer, the Benjamin Franklin Awards™ recognize excellence in independent publishing. Publications are grouped by genre and judged on editorial and design merit by top practitioners in each field. Winners will be announced May 24, 2010 in New York City at the Roosevelt Hotel.
What Does It Mean To Be Global? also received a Silver Nautilus Award. The Silver Nautilus Award recognizes books and audio books that promote spiritual growth, conscious living, and positive social change while at the same time stimulating imagination for a better life and better world. Past winners include Deepak Chopra, Barbara Kingsolver, and Carolyn Myss. Additionally, the book garnered The 2009 National Best Books Award by USA Book News in the Children's Picture Book: Hardcover, Nonfiction category.
What Does It Mean To Be Global? is a whimsically-drawn and thoughtfully-told story that guides children through the pyramids, eating sushi, celebrating Kwanzaa, and learning how to say "hello" in Swahili. The book is a conversation starter for parents and educators to teach children about the goodness in exploring, appreciating, and respecting other children's traditions, religions, and values the world over.
"We are honored to be recognized three times in less than six months and believe this validates our mission, which is to bring thought-provoking stories to young children in a very playful and engaging way," says founder and author Rana DiOrio.
In addition, Little Pickle Press released, What Does It Mean To Be Green?, the second title in the What Does It Mean To Be_?™ series, just in time for the fortieth anniversary of Earth Day. The story brings whimsy to a subject matter that many parents grapple with everyday: how to be a good steward of the environment and save the planet. The Company will release What Does It Mean To Be Present? this fall. Little Pickle Press will release this series as eBooks, along with complementing music, by summer and other digital media soon.
Little Pickle Press brings an innovative approach to the centuries old book publishing industry . The Company prints on environmentally-friendly paper and distributes directly to retailers and customers to help reduce the carbon footprint a book leaves when traveling from warehouses to distributors, and then to retailers. "We created our business model with the intention to cause change – change in the mindset of parents and readers and in an industry with outdated manufacturing and distribution practices," says Ms. DiOrio a former investment banker and lawyer.
Based in Northern California, Little Pickle Press publishes high impact media in a low impact way: books are jacket-free and printed on FSC-certified New Leaf Paper®. Additionally, the Company donates 10% of the proceeds from the What Does It Mean To Be_?™ series to the Starlight Children's Foundation, an organization dedicated to improving the quality of life for children with chronic and life-threatening injuries through entertainment, education, and family activities. LPP also supports numerous nonprofit organizations through event-driven book sales. What Does It Mean To Be Green? and What Does It Mean To Be Global? are available at specialty retailers and online at http://www.littlepicklepress.com. To learn more, please call Stephanie Rach at 415-271-9603.
# # #