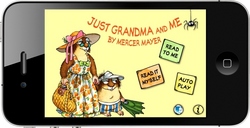 I wrote the first in the series of Little Critter books over 30 years ago to address the major issues of growing up through humorous storytelling
Encinitas, CA (Vocus) November 23, 2010
Oceanhouse Media, Inc. today announced the launch of three new Little Critter digital books for the iPad, iPhone and iPod Touch. The children's favorites Just Grandma and Me, All By Myself and I Just Forgot are now available in the App Store for only $1.99 each. The Little Critter digital books are presented in a format that is easy for young children to read. The apps contain the same playful artwork that has been a hallmark of, award-winning illustrator and author, Mercer Mayer. These "universal" apps can be used interchangeably with the iPad, iPhone and iPod Touch for no additional charge and include special high-resolution graphics for devices with a Retina display.
In the humorous tale Just Grandma and Me, Little Critter and his grandmother spend the day at the beach. Little Critter tries his best to be a good helper. When his grandmother's hot dog falls in the sand, he washes it off in the ocean. He promises to blow up the inflatable seahorse, but needs a little help in the end. The joys and mishaps of a special summer day with Grandma are all brightened by Little Critter's sunny disposition.
As the story unfolds in All By Myself, Little Critter shows us all the things he can do on his own from tying his shoes (almost) to pouring his own juice (and only spilling a little). The endearing illustrations point out the fact that Little Critter doesn't do everything perfectly, but he makes an effort to do the best he can!
I Just Forgot begins as the lovable Little Critter struggles to remember what he is supposed to do each day. On rainy days he remembers his raincoat but forgets his boots. On school days he gets to school on time but forgets his lunchbox. Poor Little Critter! He tries hard but hasn't quite mastered the art of how to get through the day. Every young reader will understand Little Critter's confusion and laugh with him from start to finish.
"I wrote the first in the series of Little Critter books over 30 years ago to address the major issues of growing up through humorous storytelling," said Mercer Mayer, author and illustrator of the Little Critter series, "I'm very excited to partner with Oceanhouse Media and see my series evolve to the iPhone and iPad."
Each digital book combines Mercer Mayer's award-winning illustrations from the original book with innovative features that promote reading in young children, including highlighted picture / word associations, professional narration and custom background audio. Each digital book also includes a special mini-game where the reader is encouraged to find recurring creatures as they progress through the story (a mouse, a grasshopper, a spider, etc).
Oceanhouse Media, creators of the award-winning Dr. Seuss, Berenstain Bears, and Hay House apps, have recently seen seven of their digital books reach the #1 rank for paid books in the App Store.
For more information on these products and direct links to the App store, please visit the Oceanhouse Media website.
About Oceanhouse Media
Oceanhouse Media, Inc. is an iPhone, iPod Touch and iPad app development company founded in early 2009 by Michel Kripalani, former CEO of Presto Studios and Director of Business Development at Autodesk. The team is comprised of developers with decades of experience, primarily from the videogame business, that now share a common purpose to uplift, educate and inspire through technology. Currently, Oceanhouse Media has over 125 apps on the App Store. The company's corporate mantra is "Creativity with Purpose."
About Mercer Mayer
Mercer Mayer is an American children's book writer and illustrator born in Arkansas in 1943. He first began illustrating in 1966 and has since published over 300 books using a wide range of illustrative styles. Mayer is best know for his "Little Critter" and "Little Monster" series of books. In 2007, Mercer Mayer received the "Artist of the Year" award at the National Book Festival in Washington, D.C. Little Critter website
LITTLE CRITTER is a trademark of Orchard House Licensing Company. All rights reserved.
# # #