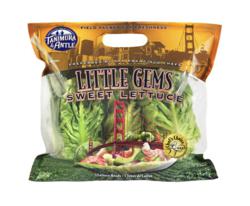 I use Little Gems Sweet Lettuce for its exceptional flavor and texture, consistency of quality, and the versatility that it lends to both hot and cold dishes
Salinas, CA (PRWEB) April 23, 2013
In 1849, adventurers to the City by the Bay filled their pockets with gold, discovering richness in the California soil. Today's culinary adventurer can enrich their family meals with Little Gems™ Sweet Lettuce, grown in the famous fertile soil of California, by produce industry leader, Tanimura & Antle. Also called Sweet Gem™ and Petite Gem, Little Gems are a compact petite lettuce variety resembling a small romaine lettuce with slightly softer and sweeter leaves. A longtime favorite of culinary professionals in the Bay Area, and well known by European consumers, Little Gems™ Sweet Lettuce is now available to retailers across the United States.
"I use Little Gems Sweet Lettuce for its exceptional flavor and texture, consistency of quality, and the versatility that it lends to both hot and cold dishes," says Chef Jason Berthold, Executive Chef at RN74 in San Francisco. Tanimura & Antle Little Gems™ Lettuce is a seed variety that combines the characteristics of both romaine and butter lettuce. It grows into a petite compact head with light green leaves that are both sweet and crunchy.
Tanimura & Antle Little Gems™ Sweet Lettuce is a versatile choice for the home cook. Each petite heads consists of cupped leaves that can be stacked on the plate for a unique salad presentation, or halved and served as a wedge salad and even grilled. Plus, the whole leaves are ideal to hold a wide range of fillings, or served whole with dips as a delicious and nutritious chip replacement.
"We have experienced increased demand for our Sweet Gem™ Lettuce, our food service product. This phenomenon along with the ever increasing sophistication of the home cook has indicated perfect timing to brand this product for the retail market," commented Diana McClean, Director of Marketing.
Tanimura & Antle Little Gems™ Sweet Lettuce is available in a 3-count retail bag available to retailers across the U.S. For more information visit taproduce.com or call the Tanimura & Antle Sales Desk @ 800.772.4542
About Tanimura & Antle
Tanimura & Antle is an industry leader whose commitment to premium quality produce has remained strong since its formation in 1982. The Tanimura & Antle families combined years of experience and knowledge to establish a produce company unrivaled in its quality products, innovation and dedication to growers, customers, consumers and employees. Today, as one of the largest independent lettuce growers in the United States, Tanimura & Antle farms more than 30,000 acres of rich, fertile farmland and ships a full line of premium fresh produce products throughout North America, Europe and Asia. For more information, please visit http://www.taproduce.com.