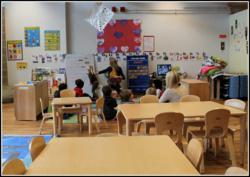 We are very excited to be expanding our new location in the Lakeview area.
Chicago, IL (PRWEB) July 10, 2012
Little Green Tree House, Chicago's premiere green early childhood education center has announced the opening of a second school at 3111 North Ashland Avenue in the Lakeview neighborhood later this fall. Due to unprecedented growth since opening their doors in July, 2009, Little Green Tree House has experienced tremendous success at their first location at 118 S. Ashland in the West Loop.
Little Green Tree House's new venue will accommodate approximately 161 students and will offer the same unique and eco-conscious educational curriculum to children from six weeks to five years-old. According to Executive Director, Erin Lyon, "We are very excited to be expanding our new location in the Lakeview area. There are so many families with young children in the neighborhood who will benefit from our school and all we have to offer. Not only are we extremely proud of our educational philosophy and the wonderful teachers and staff we have, but we are also anxious to share our ideas regarding eco-friendly living and providing children with a healthy place where they can learn and grow. We have very high expectations for the new school and are looking forward to how it will benefit everyone, including creating new jobs in the Lakeview neighborhood."
The second child care center was designed by Todd Main, the senior principal of the award-winning national architectural firm of Main Architecture. Construction is underway for the greening of the 13,000+ square-foot building which includes well-structured spaces designed for creative play, social interaction and educational development and learning. Some Little Green Tree House staff and classroom teachers are assisting with the design and furnishing of the new school.
The new school will have the same eco-conscious offerings that are available at the current Little Green Tree House location. These offerings include cloth diapering for infants and toddlers; non-toxic toys; healthy, organic and locally-sourced food; toxic-free paints, Energy Star appliances and the use of recyclable sustainable material. Students at both Little Green Tree House locations will benefit from the school's mission of promoting a message of positive worldly consciousness and modern learning. The earth-conscious day care believes that each child's potential is nurtured to build a strong foundation for their future and that of the world.
Plans for a street-level playground at the new location are underway and will be equipped with eco-friendly material including the recycled rubber matting that will serve as the play area's flooring. There are several parks nearby Little Green Tree House as well as an indoor play space that will accommodate and promote gross motor skills.Little Green Tree House will soon be recruiting for teachers and staff for their new location, estimating approximately 60 open positions which will add to the economic development and tax base of the Lakeview community. "We are thrilled to expand and have a second Little Green Tree House," said Melissa Urban, Little Green Tree House's Assistant Executive Director. "Our goal is to provide as many families as possible with the option of attending a high-quality, eco-friendly child care center. The Lakeview area is very family-oriented and seems to be the best fit for our next location."
Little Green Tree House is generating an interest list where families who want to learn more about the school and pre-enrollment are encouraged to contact Michelle Okla at michelleo(at)littlegreentreehouse(dot)com or at 312-492-9876. For more information about Little Green Tree House, please visit their website at http://www.littlegreentreehouse.com or on Facebook.
About Little Green Tree House
Founded in July, 2009, Little Green Tree House focuses on modern learning for the optimal growth and development of the child while promoting a consciousness and respect of the planet. As the first eco-friendly early child development education center in the metropolitan Chicagoland area, the Little Green Tree House gives children ranging from newborns to kindergarten age the opportunity to grow and learn efficiently and build a strong foundation for their future.
Little Green Tree House employs highly-trained teachers and a very qualified staff. Healthy, organic and locally-sourced food is served in a peanut-free allergy conscious environment. All toys, serving bowls, plates and cups are non-toxic.