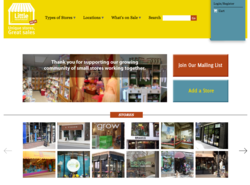 We have wonderful customers that value our stores and know to 'Buy It Where You Try It.' My hope is that this push by Amazon will draw more shoppers to the local and independent cause.
Chicago, IL (PRWEB) December 12, 2011
Brick and mortar retailers are up in arms about Amazon's promotion that encourages in-store shopping followed by online purchasing. Retailers purchase inventory to display it for shoppers to have a look before deciding to buy it. According to groups like the American Independent Business Alliance, if shoppers routinely visit stores to inspect merchandise or try it for sizing and then purchase it online, brick and mortar retail stores will close. Many shoppers who do this simply are looking for a good price and don't realize that they may be jeopardizing the jobs of the salespeople in the store. Little Independent hopes the "Buy It Where You Try It" message will serve as a friendly reminder to shoppers.
Simone Oettinger, owner of Maya Papaya & Tony Macarony in Evanston, IL, one of the 51 stores on Little Independent had this response: "Although Amazon probably created this promotion to go against the big brick and mortar boxes, it has the dangerous side effect of hurting small businesses. Amazon, as well as other internet-only vendors, already enjoys the advantages of not having to charge sales taxes in most states. In addition, they don't have to pay for a store-front rent, and in many cases, not even lock their capital in inventory, since they do a significant amount of sales via manufacturer drop-shipping. Now paying CASH for customers to do their homework elsewhere, then buy at Amazon, is the ultimate blow below the waist."
Julie Horowitz Jackson, owner of Virtu in Chicago, also one of the stores on Little Independent added, "The idea of sending an army of consumers into stores, both big and small, to gather resources for a behemoth like Amazon is absolutely astounding."
Lesley Tweedie, the founder of Little Independent and the co-owner of Roscoe Village Bikes in Chicago echoes Simone and Julie's sentiments. "I say 'Buy It Where You Try It' because it's a fair and courteous thing to do. I can't tell you how often someone in my store will look at an item I stock, ask questions and seek advice and then wonder aloud whether or not they could find it on Amazon. It's very frustrating but I try to keep in mind that the shopper is not trying to be rude, they just probably are not aware that if they do that, they're doing a disservice to me, my store, and the community of people in the neighborhood that like to shop at our store. In a doctor, lawyer or accountant's office you pay for advice and expertise. In retail, we don't charge for that because it's rolled into the price of the items we sell. If shoppers were to make a habit of using brick and mortar shopkeeper's showrooms and advice without ever purchasing products, we wouldn't be able to keep our stores open."
Julie of Virtu adds: "I experience this on an almost weekly basis in the case of some of our jewelers. Many folks, understandably, do not want to spend three or four thousand dollars on a piece of jewelry without trying it on. They will make a trip into Virtu, take a look at how things sparkle and then shop directly, all while saving themselves close to four hundred dollars in sales tax. What the customer doesn't understand is the number of hours we put into helping them to design and create a custom piece. When they shop online, we lose out on the investment of time as well as on the possible customer relationship we had just developed."
"I don't think Amazon was deliberately trying to hurt retailers with their push to encourage in-store shopping followed by online purchasing, but it could have that effect," says Tweedie. "One good thing about their promotion is that it brings the topic out for discussion. Groups in the local and independent movement have been very vocal about their displeasure and many shoppers have responded that they value their neighborhood stores and will support them. That makes me very hopeful."
"We understand that shoppers have choices to make and I don't expect people to exclusively shop at local and independent stores. There's room in the ocean for big fish and little fish. If you like having the little fish around, just continue to shop at our stores. Consider making a portion of holiday purchases at small stores. The latest post on the Little Independent blog, 'Good Values Over Good Deals: Choosing Local at Little Independent' was about this topic. We have wonderful customers that value our stores and know to 'Buy It Where You Try It.' My hope is that this push by Amazon will draw more shoppers to the local and independent cause."
About:
Founded in 2010, Little Independent is a Chicago-based online marketplace for sale items at independent retail stores. Its mission is to be an advocate for independent retailers and to give savvy shoppers an easier way to find great independent stores and sale merchandise. To shop or sell, please visit http://www.littleindependent.com.
# # #