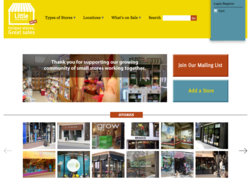 I would love to join. Is it as simple as getting my profile and listings posted?
Chicago, IL (PRWEB) January 23, 2012
Little Independent is expanding and now features 64 Main St. style retail shops in 13 states. The website is an online marketplace for sale items from independent retail stores. In business model terms, it functions as a business directory and inventory aggregator. This January, the site added stores in New York and California, which officially makes it a coast-to-coast shop small initiative.
On January 2, 2012, Cedar Rose Lane in Big Bear Lake, California became the 56th store on Little Independent. The owner, Ginger Budington says "Cedar Rose Lane is a retail, gift store that has become a destination shopping experience for over 20+ years."
On January 16 Dawn Greenburg, the owner of Aurora FT in Chappaqua, New York reached out to Lesley Tweedie, the founder of Little Independent, with this message: "Hi. I love your concept and have been a follower for a while. I have a fair trade, handmade jewelry, eco goods store in Chappaqua, NY. I would love to join. Is it as simple as getting my profile and listings posted? I think I'd be your first NY retailer, right?" Indeed later that day, Aurora FT became the 62nd store on the site and first in New York.
"We're so happy to have these new stores join our community of small retailers working together because the more stores and sale item content that can be found on the site, the more enjoyable it is for shoppers," says Tweedie.
Little Independent harnesses technology to help retailers list their discounted merchandise in order to get it in front of a wider audience to sell it more quickly. "Slow turning items can cause cash flow problems for retailers. We want to solve that problem and be an advocate for small business owners," says Tweedie. Recent advocacy efforts include the "Buy It Where You Try It" social media campaign in response to the practice of in-store shopping followed by online purchasing. This can be very harmful to small locally owned stores and is a practice that Little Independent strongly discourages.
It doesn't cost anything to add a store to Little Independent and only takes about ten minutes. Some stores have sale items listed but others do not. Little Independent allows sellers to list items and make them available in-store, over the phone, via the store's own website or through the "add to cart" on the site. Retailers pick the methods that work best for their store and the site does not take a percentage of the sale. Listing fees are paid upfront and sellers keep 100% of the profits from sales they make.
"We're happy for this continued growth in 2012 as one day we hope to be the go-to destination for shoppers to find great independent stores and sale merchandise online," says Tweedie. "The more stores that join our efforts the bigger the impact we have."
About:
Founded in 2010, Little Independent is a Chicago-based online marketplace for sale items at independent retail stores. Its mission is to be an advocate for independent retailers and to give savvy shoppers an easier way to find great independent stores and sale merchandise. To shop or sell, please visit http://www.littleindependent.com.
###