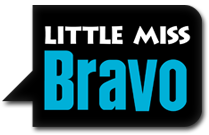 Bravo's liberal use of social technology has made successes of its programming.
Fort Lee, NJ (PRWEB) January 30, 2013
The newest blog from LittleMissBravo.com this week dishes on the network's claim to be the most socially connected in the industry. According to LittleMissBravo.com, social connectivity sets the network apart from its competition by creating interactive opportunities for its audiences.
LitleMissBravo.som examines the way the network has long utilized social interactions for branding and for growing shows. Programs like "Top Chef" provide online interaction between the show and fans who can vote to save a contestant. Fans vote based in part on messages sent by the chefs themselves during the show's broadcast, which give viewers a more personal connection with the show's stars.
According to LittleMissBravo.com, the liberal use of social technology has made successes of its programming by creating deeper relationships with brands through social networking, and developing engaging television programming with brand messages embedded.
LittleMissBravo.com says that Bravo's approach to branded advertising is to market and grow its shows while simultaneously creating secondary revenue streams. However, Bravo does not allow brands on its social networking channels yet – those are reserved for fans, which has proven wildly popular among audiences.
According to LittleMissBravo.com, Bravo Executive and on-air personality Andy Cohen is credited with creating the prototype for social television. Cohen hosts the live broadcasts of "Watch What Happens Live." The show draws viewers into the conversation by asking viewers to submit questions via Facebook and Twitter, and granting viewers the ability to talk to celebrity guests live on-air.
In November, Bravo launched "Play Live," programming that the network calls an interactive social experience. Fans will be able to respond in real time to pop-up questions, polls, and other prompts related to topics being discussed by Cohen and his guests. Viewers can respond or cast votes via smartphone or tablet and see results live on air.
Bravo viewers have been given a voice in its shows, which tells viewers that their opinions are important.
For more information, visit the LittleMissBravo.com website or Email info(at)littlemissbravo(dot)com.
About Marble Media LLC:
Marble Media LLC is a creator of high-quality, content-rich blog sites that provide expansive coverage of relevant information to readers who make up a wide range of demographics. The Marble Media LLC team of expert writers covers a wide range of specialties including travel, food, health, fitness, social media, marriage, parenting, technology, weight loss, fashion and much more.
For more information on Marble Media LLC's offerings and advertising opportunities, visit the MarbleMediaLLC.com website, or Email sales(at)marblemedia(dot)com.