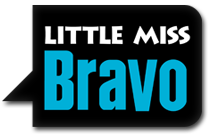 HuffPost Live invited LittleMissBravo.com to participate in the "Vanderpump Rules" interview.
FORT LEE, New Jersey (PRWEB) February 11, 2013
LittleMissBravo.com writer Jamie Sarakin joined HuffPost Live February 4 for an interview with "Vanderpump Rules" stars Stassi Schroeder & Scheana Marie. LittleMissBravo.com, a subsidiary of Marble Media LLC, is an online blog that delivers the latest news, gossip and innuendo on Bravo's favorite reality television shows.
Sarakin, of New York City, was the first of three guest interviewers to address the "Vanderpump Rules" stars, affording her the opportunity to ask Schroeder a question that has been burning in the minds of "Vanderpump Rules" viewers for weeks – whether her rebound relationship with Frank overlapped the final days of her relationship with Jax. (Watch the video for Schroeder's response.)
The interview focused primarily on Schroeder's reputation among viewers as the show's villain, as well as the relationship between the two stars who had gotten off to a rocky start when Marie joined the cast. "Vanderpump Rules" is a spin-off of the hit Bravo reality show "The Real Housewives of Beverly Hills," bringing cross-over relationship drama to Vanderpumps' SUR restaurant staff in Hollywood.
HuffPost Live invited LittleMissBravo.com to participate in the "Vanderpump Rules" interview as part of its live-streaming network programming that uses the HuffPost universe – the stories, editors, reporters, bloggers, and community – as its real-time script.
LittleMissBravo.com is a favorite guilty pleasure for fans who love to stay on top of the latest happenings and upcoming episode teasers for Bravo's most popular shows.
LittleMissBravo.com is Hollywood's hottest new site for reality star news and gossip, threatening to be almost as addictive as the shows themselves – maybe more addictive for busy fans who don't have the chance to tune in every week.
For more information, visit the LittleMissBravo.com website or email info(at)LittleMissBravo(dot)com.
About Marble Media LLC:
Marble Media LLC is a creator of high-quality, content-rich blog sites that provide expansive coverage of relevant information to readers who make up a wide range of demographics. The Marble Media LLC team of expert writers covers a wide range of specialties including travel, food, health, fitness, social media, marriage, parenting, technology, weight loss, fashion and much more.
For more information on Marble Media LLC's offerings and advertising opportunities, visit the MarbleMediaLLC.com website, or email sales(at)marblemedia(dot)com.
###