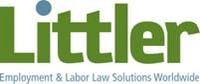 I am excited at the opportunity to open this new Littler office in Edwardsville
San Francisco, CA (Vocus) January 7, 2009
Littler Mendelson, the nation's largest employment and labor law firm representing management, announced today the opening of its newest office in Edwardsville, Illinois. This latest location increases the number of Littler's nationwide offices to 46 and is further confirmation of the business community's growing demand for the firm's specialized and strategic legal solutions.
The new Edwardsville office will function in close association with Littler's St. Louis and Chicago locations and will be managed by Harry ("Hal") Wellford, Jr., the current office managing shareholder of the St. Louis office. Opening an office in Edwardsville enables Littler attorneys to deliver its unsurpassed national resources to more clients in the Midwest.
"We are excited to open our newest Littler office in Edwardsville," said Marko Mrkonich, president and managing director of Littler Mendelson. "We believe that this expansion will help to address the growing employment and labor demands of businesses in the Metro East, and longer term, provide greater capacity to support the needs of our Chicago and St. Louis offices (along the I-55 Corridor)."
As the managing shareholder for this office, Wellford brings a wealth of knowledge and cutting-edge solutions to Edwardsville, as well as an intimate understanding of the specific needs of employers in the Midwest. "I am excited at the opportunity to open this new Littler office in Edwardsville," said Wellford. "This growth reaffirms our continued commitment to delivering the highest level of client service to companies in the Metro East area and throughout southern Illinois."
Charles ("Chad") Reis IV, a shareholder in Littler's St. Louis office with a substantial practice defending employers in southern and central Illinois courts, agrees that having an office in southern Illinois will better enable Littler to service local and national clients. "Because of changes in Illinois and federal laws, there is no question that there will be a significant increase in claims by employees who work in Southern Illinois. Having lawyers with labor and employment expertise who have practiced for years in Madison and St. Clair counties and live in the community will allow us to provide superior representation for our clients."
Kimberly Yates, a Littler Mendelson Shareholder and Edwardsville resident, practices in Illinois and Missouri state and federal courts and will practice out of the Edwardsville and St. Louis offices. Ms. Yates has extensive labor and employment experience, including counseling management on labor and employment legal matters and defense of discrimination, whistle-blowing, non-compete and wage and hour litigation. Trish Martin, a Littler associate and resident of St. Clair County, will also practice from the Edwardsville and St. Louis offices. Ms. Martin has successfully represented employers in state and federal courts. Ms. Martin has also represented companies dealing with labor unions under the Railway Labor Act and National Labor Relations Act and advises clients regarding the Employee Free Choice Act.
"Littler is squarely focused on providing the accessibility and depth of experience to our clients, regardless of their corporate location," said Fred Schwartz, Chicago's office managing shareholder. "Combined with our strong affiliation with Ius Laboris, a global alliance of labor and employment law firms, we are confident in our ability to deliver the personal counsel and strategy that is demanded by today's multi-national corporations."
About Littler Mendelson
With more than 750 attorneys and 46 offices, Littler Mendelson is the largest U.S.-based law firm exclusively devoted to representing management in employment and labor law matters. As the only U.S. member of the Ius Laboris global alliance, Littler has extensive resources to address the global needs of clients, from navigating foreign employment laws and international labor relations issues to applying corporate policies on a global basis. Established in 1942, the firm has litigated, mediated and negotiated some of the most influential employment law cases and labor contracts on record. For more information, visit littler.com.
Contact:
Jennifer Ruppert
Ph: 415-288-6328
###