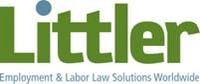 San Francisco, CA (Vocus) January 8, 2009
Littler Mendelson , the nation's largest employment and labor law firm representing management, is pleased to announce the elevation of twenty-seven associates across the firm, to shareholder status.
"These new shareholders have distinguished themselves through the diligence and creative thinking they bring to the table while working on legal matters," said Marko Mrkonich, Littler Mendelson's president and managing director. "Each individual contributes to the firm's collective knowledge and enhances our ability to provide excellent service to our clients."
The newly appointed shareholders include:

Patrick Ray, Atlanta
Chris Kaczmarek, Boston
Angela Cummings, Charlotte
Marissa Ross Ingley, Chicago
Heidi Alten, Cleveland
Patrick Lewis, Cleveland
James Smith, Cleveland
Kevin Mullen, Dallas
Yvette Gatling, Houston
Denise Barton Ward, Long Island
Joshua Feldman, Los Angeles
Scott Lidman - Los Angeles
Jonathan Beckerman, Miami
Gaye Huxoll, Miami
Noah Lipschultz, Minneapolis
Rupert (Brad) Adams, Mobile
Eva Madison, Northwest Arkansas
R. Scott Summers, Northwest Arkansas
Michael Gregg, Orange County
Kristin Culbertson, Phoenix
Amy Nixon, St. Louis
Lena Sims, San Diego
Denise Visconti, San Diego
Sofija Anderson, San Francisco
Ellen Bronchetti, San Francisco
Todd Boyer, San Jose
Joshua Roffman, Washington, DC
About Littler Mendelson
With more than 750 attorneys and 46 offices, Littler Mendelson is the largest U.S.-based law firm exclusively devoted to representing management in employment and labor law matters. As the only U.S. member of the Ius Laboris global alliance, Littler has extensive resources to address the global needs of clients, from navigating foreign employment laws and international labor relations issues to applying corporate policies on a global basis. Established in 1942, the firm has litigated, mediated and negotiated some of the most influential employment law cases and labor contracts on record. For more information, visit http://www.littler.com.
CONTACT:
Jenn Myres
Formula
(619) 234-0345
# # #