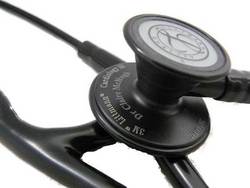 We offer quality products at low prices - which should be attractive to all of our customers.
Stratford, Conn. (PRWEB) October 9, 2008
Medisave USA ™, with new offices in Stratford, Conn., today announced it will offer a full range of medical equipment and stethoscopes to doctors, medical students and other medical professionals online.
"As we head into the fall season and the school year, our stethoscopes are a great option for new and returning medical students," said Graham Wright of Medisave USA. "We offer quality products at low prices - which should be attractive to all of our customers."
Medisave carries the full line of 3M Littmann ® stethoscopes, including the Cardiology III, Classic II SE, and the latest electronic stethoscopes. They also carry Welch Allyn diagnostic kits such as otoscopes and ophthalmoscopes.
Medisave also now offers in-house laser engraving facilities, allowing customers to personalize stethoscopes and other medical equipment with name engravings and medical facility details. This works very well as a security mark for expensive medical equipment that is often misplaced in fast-paced medical conditions.
The in-house laser engraving means that customers will not face delays with their orders. In fact, Medisave maintains a late, 6 p.m. (EST) cut-off time for same-day dispatch for all orders -- regardless of engraving requests.
Medisave has live shipping integration with USPS®, UPS™ and FEDEX® to give customers maximum selection and value when choosing their shipping method. Medisave new business locations are chosen due to their close vicinity with Fedex and UPS, which allows for later carrier pickup times.
Medisave recently built its own video studio with green / blue chromakey facilities to produce video demonstrations of products the company distributes. The chromakey facility was purchased for less than $2,000, and so far, 50 in-house videos have been produced and samples are available online. They range from a basic overview of the Littmann stethoscope range, to how to use a stethoscope.
Medisave carries a full range of spares -- including everything from spare rim assemblies for a stethoscope to ear tips or bulbs for otoscopes and ophthalmoscopes. Medisave.net also makes it easy to find the products customers are looking for. Customers can click on the actual product they own and then see visual representations of the parts under related products, making selection and purchase pain free. Medisave prides itself regarding its outstanding support of all its product offerings.
Contact:
Graham Wright
300 Long Beach Boulevard
Stratford CT 06615
203-404 4876
gwright @ medisave.net
###