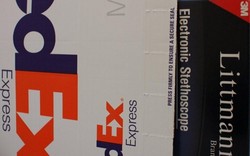 In some circumstances it is clearly smarter to pay slightly more and get the peace of mind that comes from using a trusted courier
Stratford, Connecticut (PRWEB) November 4, 2008 -
Medisave (http://www.medisave.net)], a leading global medical equipment merchant with mail order operations in UK, USA, Europe, New Zealand and Australia, today announced that despite the global credit crunch, global sales have increased by over 30 percent in 2008. And while sales remain strong, they way customers choose to get their goods is changing.
"That our sales remain strong is a testament to our extensive selection of stethoscopes and other medical office supplies, competitive prices and excellent customer service," said Graham Wright of Medisave USA. "This year we have seen a worldwide decline in customers paying the extra for premium delivery services such as air services or guaranteed next day delivery."
Where a customer lives may have an effect on their selected delivery option, but it is far from clear that cheaper means better.
"For many delivery locations the price difference on a relatively expensive lightweight item such as a stethoscope is only a couple of dollars," said Wright. "However we now see customers generally choosing the cheapest delivery option to keep overall costs down."
While customers can feel good about saving money, they are bound to be disappointed if they fail to adjust their expectations. Often cheaper delivery options are more leisurely. eCommerce providers must grapple with the perception that because delivery was slightly slower than before, they somehow provided inferior customer service. This is especially true for customers who are used to paying a premium for rapid shipping service or delivery guarantees.
Wright said, "Changing purchasing habits has a knock on effect if customer expectations remain the same. If the parcel arrives later due to their selected cheaper delivery option and their perception of the customer service they have received is negative, this is likely to be levied at the online shop they purchased from, not at the delivery service."
Medisave USA has a solution. The medical supplies e-tailer is now closely integrated with all major couriers including FEDEX (Federal Express Ground and Air Express), UPS (United Parcel Service) and USPS (United States Postal Service) to ensure that consumers have a full range of choice in deciding how their parcel is delivered. Medisave has also extended its same day dispatch cut off time to 6pm in order to effectively save a day in transit and exceed the customer expectations.
Furthermore, customers should realize that in choosing delivery methods, slower is not always cheaper. Different zip codes or postal codes are a huge factor in determining shipping cost, but not in the way many people assume. Couriers will sometimes be able to offer better prices for delivery to certain areas, meaning customers should take careful note of prices offered for air shipping, said Wright.
"In some circumstances it is clearly smarter to pay slightly more and get the peace of mind that comes from using a trusted courier," Wright said. "Items like stethoscopes are often urgently needed. It's better to pay slightly more for guaranteed delivery than to waste precious time and aggravation waiting for a package to show."
Graham reiterates that because of economic changes, managing customer's expectations is a key factor to e-commerce success. Consumers are all too aware of the financial instabilities globally, but to maintain freedom of choice with their purchasing habits will ensure they have some element of control when it comes to personal shopping trends.
Contact
Graham Wright
203 404 4876
gwright @ medisave.net
###