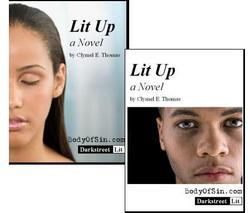 It doesn't matter if a reader has ever stared down the barrel of a shotgun...
Miami, FL (PRWEB) November 23, 2010
You can easily picture Clymel E. Thomas' novel, "Lit Up," (DarkStreetLit.com / BodyOfSin.com Publishing Group) sticking out of the back pocket of a drug dealer (yes, they can and do read, too). The story is that raw, especially the disturbing opening scene.
But you can just as easily envision a teenage girl sitting in an airport lobby reading "Lit Up" as she prepares to leave for a Christian women's conference.
Real-life prisoners remark about the book's deep, uncompromising, profanity-free depiction of inner-city life, and a large school district like Miami-Dade County Public Schools, which serves roughly half a million students, puts the novel on its suggested reading list alongside classics from Ernest Hemingway, Toni Morrison and Maya Angelou.
How does a novel bridge such disparate audiences, and not scare away school district officials in fear of the subject matter contained within--or prisoners in fear of a "soft" book with no profanity?
"Lit Up" contains a universal story dealing with faith and redemption, loyalty and honor, and violent fear under the veil of street life.
"Readers often see through that veil," says the author. "It really does not matter if they have ever stared down the barrel of a shotgun or worked a drug corner like the novel's protagonist.
"'Lit Up' is not about voyeurism of the inner city; instead, the novel sheds light for all of its readers on a gritty slice of life that is lonely, bloody and dark when choices are made to exclude God. As a result, readers who would normally walk past each other on the street, or worse, now have something in common...if they would just choose to stop and discover it."
On the Net:
DarkStreetLit.com, BodyOfSin.com, ChangeFiction.com
###