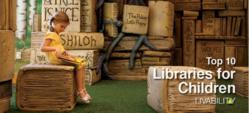 The children's library is a vital starting point for intellectual, academic and social inspiration...
Franklin, TN (PRWEB) February 01, 2012
Livability.com, a national website that highlights more than 500 of America's best places to live, has released a list of the Top 10 Libraries for Children in the country.
Livability.com editors looked at 500 communities across the country to find the best libraries for kids. The children's libraries selected not only look amazing, they also offer great programs and library activities for children and the entire community. These libraries are designed to stimulate young imaginations and foster engagement with books and literacy programs. They play a vital role in not only educating children, but getting them excited about reading, learning and exploring.
"The children's section of any neighborhood public library is invariably the first public place where children are exposed to educative activities," says Vanessa Morris, professor of Library Science at Drexel University. "Typically, children will visit the public library before they enroll into preschool. Thus the children's library is a vital starting point for intellectual, academic and social inspiration for all generations."
Several nationally recognized authorities on the subject of libraries and children's literature, including the American Library Association, declined participating in actually ranking libraries, emphasizing only the greater mission of all children's literacy programs and institutions.
"[A library] should be responsive to its community rather than beholden to some kind of national standard," says Roger Sutton, editor in chief of The Horn Book, which reviews and tracks children's and young adult literature. "The best libraries pay attention to their communities, and the best librarians are those who really pay attention to the child in front of them, as well as the child who is not there but should be."
Top 10 Children's Libraries
1. ImaginOn – Charlotte, NC
2. Vancouver Community Library – Vancouver, WA
3. Hardesty Regional Library – Tulsa, OK
4. Lied Scottsbluff Public Library – Scottsbluff, NE
5. Iowa City Public Library – Iowa City, IA
6. El Paso Public Library – El Paso, TX
7. Laramie County Library – Cheyenne, WY
8. Brentwood Public Library – Brentwood, TN
9. Birmingham Public Library – Birmingham, AL
10. The Public Library of Cincinnati and Hamilton County – Cincinnati, OH
###