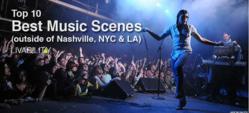 …there are other cities like Athens, Georgia and Concord, California that have just as vibrant a music scene and culture as Nashville and some of the big cities.
Franklin, Tenn. (PRWEB) March 27, 2012
Livability.com, a national website that highlights more than 500 of America's best places to live, has released a list of the Top 10 Cities With the Best Music Scenes Outside Nashville, New York City and Los Angeles.
When you think of cities with thriving music scenes, Nashville, New York City and Los Angeles immediately come to mind, but for this list Livability.com editors explored other cities where music lovers can feel right at home. These cities have not only received numerous accolades for the number and quality of music venues, independent record stores and local musicians, but they also possess other livability characteristics, such as a vibrant nightlife and higher education opportunities. That makes them some of America's best cities for music as well as great places to live.
From Prince's Paisley Park in Minneapolis to Billy Bob's (the world's largest honky tonk) in Fort Worth, the variety of music venues, recording studios and record stores make the cities on this list attractive to both musicians and music fans of every genre.
Top 10 Cities With the Best Music Scenes Outside Nashville, NYC and L.A.
1. Athens, GA
2. Minneapolis, MN
3. Portland, OR
4. Chapel Hill, NC
5. Omaha, NE
6. Cambridge, MA
7. Fort Worth, TX
8. Madison, WI
9. Tulsa, OK
10. Concord, CA