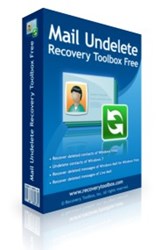 a freeware tool that solves the problem of recovering Windows Mail/Live Mail messages
Alexandria, VA (PRWEB) October 02, 2012
Mail Undelete Recovery Toolbox Free is a freeware tool that solves the problem of recovering Windows Mail/Live Mail messages and requires no prior recovery experience or any special skills. The only condition for successful email recovery is that the files being recovered must not have been overwritten since their deletion.
According to the lead developer of Recovery Toolbox recoverytoolbox.com, "The idea was to create a recovery tool that would offer the same kind of intuitiveness and ease of use as Windows Mail and Live Mail programs themselves. Our software fully automates the email recovery process and only requires the user to make a few important choices along the way." Live Mail Undelete Recovery Toolbox Free recovers emails, email attachments and contacts using an easy-to-follow wizard. Being a free solution, Mail Undelete Recovery Toolbox Free ( click here to download) can potentially save a considerable amount of time and money by allowing users to perform recovery in seconds without leaving their workplace instead of hiring an external data recovery company. All Recovery Toolbox products, including Mail Undelete Recovery Toolbox Free, are thoroughly tested using several anti-virus tools and are 100% safe to download.
About Recovery Toolbox
Founded in 2003, Recovery Toolbox is by right the leading provider of data recovery tools for a broad range of programs. The growing portfolio of Recovery Toolbox consists of over 20 award-winning solutions intended primarily for mainstream applications used by millions of people worldwide. The company is committed to creating intuitive and user-friendly tools that help regular users solve complex data recovery and migration problems on their own.
Read more at: http://www.recoverytoolbox.com/mail_undelete.html
Oficial Site: http://www.recoverytoolbox.com/