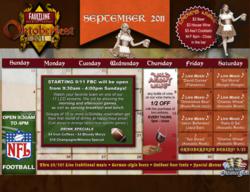 San Jose, CA (PRWEB) September 16, 2011
Everybody loves a good time, but for those unable to get it by going to the real thing, Faultline Brewing Company has decided to bring Oktoberfest to San Jose. From September 23rd to October 30th, German and Bavarian inspired beers and meals will be served, along with live music, with Faultline's famous Oktoberfest brew being released on September 23rd.
A variety of German-inspired comfort food dishes will be available, such as the Sausage & Pretzel Snacker, a warm, soft pretzel with an assortment of sliced, grilled brats and served with two types of mustards for dipping. Other menu items are the FBC "Beer Brats" Platter which is a choice of two or three beer braised sausages that are served with German potato salad & apple-bacon sauerkraut, the KasslerRippchen which is a smoked pork chop served with apple-bacon sauerkraut and a traditional thinly sliced potato mixed with bacon and onions known as the 'rosti' and finished with an apple-brandy sauce, and last but not least on the menu is the Oktoberfest Bratwurst Sandwich, a grilled smoked bratwurst with sauerkraut, Swiss cheese and whole grain mustard spread on a soft steak roll, with German potato salad.
For everybody's favorite part, the beer. Faultline's Oktoberfest brew is one of the most popular brews they have, but other German style beers available at the celebration are Kolch, Hefeweizen, Dunkelweizen, and Pilsner. "This is the best time of year for a great beer because we offer so many different varieties including our famous Oktoberfest brew. If you are looking to revel in the marvel of Oktoberfest, you can't pick a better place to do it than here," said Christa Shaw, Faultline brewing Company's General Manager. The alcohol can be enjoyed while listening to live music from 6 PM to 9 PM Monday through Friday.
To contact Faultline Brewing Company for more information, please call (408) 702-2593 or visit them on the web at http://www.faultlinebrewing.com.
About Faultline Brewing Company
Located in a lakeside business park lies one of Sunnyvale's best kept secrets...Faultline Brewing Company. The incredible family restaurant first opened its doors in December of 1994 and has been supplying the Silicon Valley with spectacular hand-crafted beers and delicious cuisine ever since. The beers brewed there are traditional. No fruit, vegetable or candy flavorings are used. They brew over 20 different ales and lagers throughout the year, so there is bound to be something to please any palate and feature the best Happy Hour in the region. Their menu has a broad range of choices from traditional "comfort food" like Pot Roast or St. Louis BBQ Ribs to unique dishes like their Pistachio Crusted Pork Chops or the famous Tempura Ahi Rolls. They also change the menu seasonally in order to showcase the freshest of ingredients. They offer catering services and outdoor dining.
###