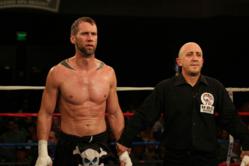 Don't Miss this great San Diego Muay Thai Event! Pala Casino Spa Resort, August 18, 2012. Ages 21 and up.
San Diego, CA (PRWEB) August 01, 2012
Join American Boxing, San Diego's highest quality in training, at this San Diego Muay Thai Live event. Coach Dave Nielsen will be headlining the 2012 WCK Muay Thai World Championship with a bout vs Fernando Gonzalez. Dennis Warner, WCK Muay Thai, In Sync Productions, Inc. and Pala Casino Spa Resort are presenting the event on Saturday, August 18, 2012. Fights begin at 6:00pm and fans must be at least 21 years old.
Dave Nielsen vs Fernando Gonzalez
Dave Nielsen is a former IKF Muay Thai World Champion, a NASM and CrossFit Certified Personal Trainer, a California State No-Gi JiuJitsu/Grappling Champion, USA Boxing Coach as well as a health and nutrition guru living in San Diego California. His current fight record is 14 fights with 13 wins, 1 loss, 7 KO's, 6x undefeated Muay Thai Champion. Dave turned 38 years old on July 18.
Ryan Madigan UFC Veteran, WCL (World Combat League) Veteran and ranked 4th in the World for the ISKA rankings for his weight class and current IKF East Coast Middleweight Champion, Ryan "The Lion" Madigan fighting out of Cuyahoga Falls, Ohio. His current professional Muay Thai record is 28 wins and 6 Losses. Ryan turned 35 years old on April 2.
Also Headlining: Miriam Nakamoto vs Julie Kitchen
In 2010, Miriam Nakamoto became the first American woman to hold the WBC Muay Thai World Title. She is considered one of the top female strikers in the world. Versatile in both Muay Thai kickboxing and traditional boxing, Miriam has been involved in the striking arts for over 13 years. She has been professional since 2005, sporting a Muay Thai record of 14-0.
Julie Kitchen is the Current #1 World ranked ladies Muay Thai boxing champion from Cornwall, UK. Julie holds 14x World titles, she is a fighter, trainer and ambassador for sport. Julie Kitchen's current fight record is 55 fights with 47 wins, 8 loses,1 no contest, 14x World Champion and 23 Belts.
Event Details
When: Saturday, August 18, 2012 at 6:00pm
Where: Pala Casino Spa Resort
11154 HWY 76
Pala, CA 92059
Ticket Prices: $100 for ring side and $40 for general admission
Tickets can be purchased: By calling American Boxing @ 858-581-2694
Please Note: Bouts are subject to change or cancellation. All ticket sales are final. No refunds or exchanges. 21 and over.
Current Fight Card
Andre Alvarado vs Andrew Gabriel
Dave Pacheco vs Francisco Garcia
Bradley Guachino vs Keith Carson
Tiana Caverly vs Jemyma Betrain
Leana Ovchynnikova vs Emily Bearden
Tiffany Vansoest vs Hilary Mack
Big 8 North American Four Man Tournament
Also expected for the fight card will be the North American Qualifier for the WKN Big 8 tournament in Belarus. Fighters will compete for the slot to represent North America in the WKN Big 8 tournament later in the year. The fighters competing in the four man qualifier tournament are Pagliuso, Oblonsky, Rodriguez and Davidson.
Event Promo Video
WCK Champion of Champions Fight Card -- August 18th, 2012
------------
ABOUT AMERICAN BOXING
Established in 2003, American Boxing is a small Thai Boxing, Fitness and MMA (mixed martial arts) School. Located in Pacific Beach, San Diego, California in the USA, the gym is a perfect 1.5 mile jog to the sand. American Boxing specializes in Muay Thai Kickboxing, Boxing and Personal Training. Additionally, American Boxing is highly experienced in and offers training for Submission Wrestling and MMA for competition.
With classes Guaranteed of fewer than 12 students, American Boxing Gym offers San Diego's Men, Women and Children a clean environment and safe classes to work towards serious fitness, self defense and competition goals!
For more information, contact:
Gina Reyes
American Boxing
Phone: (858) 581-2694
info (at)americanboxing(dot)net
http://americanboxing.net