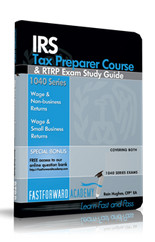 Offering live tax preparer training, in addition to our online RTRP preparation course, means that students have the choice of how and when they learn this material
Orlando, Florida (PRWEB) September 19, 2012
Fast Forward Academy is known for wanting to help aspiring tax preparers study for the challenging RTRP exam, and today, the company is taking an additional step to help students get tax preparer jobs by offering a live RTRP preparation class in Orlando. As an added incentive, anyone who attends this class, will receive a one-day pass to Disney World.
Anyone who wishes to become a tax preparer can attend, in person, one of two classes. Classes will be held in Orlando on both November 8–10 and December 17–19 (Renaissance Orlando at SeaWorld in November and Marriott World Center in December)and will be taught by Mr. Hector Garcia. Mr. Garcia (MST, MSF, CFAA, RTRP) has led several tax-related workshops for Fast Forward Academy and is a leader in the tax industry.
Fast Forward Academy President, Matt McBride, is pleased to expand the RTRP preparation class to include a live session. "At Fast Forward Academy, we do our best to accommodate all types of students. We also try to make learning not only informative, but fun and want to give students the opportunity to unwind at Disney World following two intensive days of learning." McBride continues, "Offering live tax preparer training, in addition to our online RTRP preparation course, means that students have the choice of how and when they learn this material. We're happy to, once again, work with Hector Garcia to offer this live class. Mr. Garcia has many years of experience in the tax industry and students will benefit from his wealth of knowledge."
For those wishing to embark on a new tax career and find tax tax preparer jobs, each three-day class counts for 15 hours of total CE and includes access to the Fast Forward Academy RTRP Study Guide, Test Bank and Unlimited Practice Exams. The 15 hours are broken down into 10 hours of RTRP CE (from the Fast Forward Academy RTRP Study Guide), 2 hours of Ethics (online) and 3 hours of 2012 Tax Updates (online).
The three-day tax preparer training class will be broken down as follows: Day one will focus on reviewing the most important concepts from the RTRP preparation book, day two will consist of an interactive Q&A session and day three will be a fun day at Disney World, which includes the Epcot Food & Wine Festival in November and exploring the Disney World parks decked out for the holidays in December.
A student who wishes to become a tax preparer and takes this class will learn about such topics as Preliminary Work Taxpayer Data, Completion, and Filing Process; Treatment of Income & Assets; Deductions, Credits, and Other Taxes; and Practices, Procedures, and Ethics. Registration is limited so students are encouraged to sign up for this class fast.
Click here to read more about Fast Forward Academy's live RTRP preparation classes in Orlando and learn about how you can get a one-day pass to Disney for free.
Click here to see how Fast Forward Academy can help you pass the RTRP exam
About Hector Garcia
Hector Garcia holds three post-graduate degrees and is an experienced accountant, trainer and tax preparer in Davie, FL, where he owns and operates Quick Bookkeeping & Accounting, LLC. Hector has previous experience working for such Fortune 500 companies as Best Buy, Circuit City, Bank of America and Wells Fargo.
About Fast Forward Academy
Fast Forward Academy, LLC provides companies and individuals around the world with the tools to help them efficiently manage their professional education needs. The name Fast Forward Academy reflects the scope of our mission—helping students and professionals accomplish more in less time. To realize this goal, we make every effort to provide the most useful and efficient exam prep material in the market place, all designed to help our students Learn Fast and Pass. Our principal focus is to supply rapid training and streamlined continuing education to professionals in the fields of taxation, securities and insurance.