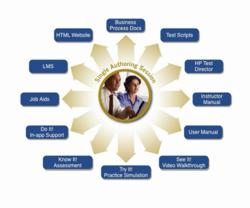 EPAK helps companies meet these challenges...
Clinton Township, MI (PRWEB) June 05, 2013
Godlan, Inc., an Infor Gold Channel Partner representing the Midwest and Southeast, announced today that they will host a live software demo webinar on Wednesday June 12, 2013 at 10:00 AM Eastern Time featuring Infor SyteLine ERP EPAK (Enterprise Performance Accelerator Kit).
The webinar software demo will be conducted by Infor SyteLine EPAK Subject Matter Expert – Jeff Steward.
Infor EPAK gives forward moving organizations a single platform, with consistent formatting and messaging, for all of their process and software evaluation documents, as well as the tools they need to increase employee productivity.
Deploying enterprise business solutions and ensuring all employees are trained on all business processes and systems is no easy task. Most companies in the current economy are trying to do more with less—and the pressure on employees to get things right, the first time is greater than ever. New regulations force companies to adhere to strict compliance standards, and the need to document and capture critical business processes.
The Infor™ Enterprise Performance Accelerator Kit (EPAK) helps companies meet these challenges, so they reduce costs and errors and recognize ROI more quickly.
The EPAK simulation platform, from a single recording and editing session, provides 12 deliverables.
EPAK serves organizations across the entire software lifecycle—before, during, and after implementation.
To register for this webinar, visit this page to request credentials: EPAK - Reduce costs & errors, and recognize ROI now.
Godlan was awarded North America SyteLine ERP Partner of the Year in 2011 and is an approved Infor Gold Channel Partner serving customers for 28 years. For more information, visit godlan.com or call 586-464-4400.
About Godlan
Godlan is a leading manufacturing performance specialist that has been implementing integrated technology solutions since 1984. As an approved Infor Gold Channel Partner with a focus on Infor SyteLine ERP, Godlan supports the implementation of world-class processes and best practices throughout discrete manufacturing organizations. For more information about Godlan, its mobile application InSync Anywhere, or Infor SyteLine ERP manufacturing software demos, call 586-464-4400 or visit godlan.com.
About SyteLine ERP 10x
Infor SyteLine ERP provides the foundation to improve business efficiency, customer service, and overall manufacturing productivity for a broad range of industries, including metal fabrication, industrial equipment and machinery, high-tech and electronics, and more. Manufacturers can now unlock the potential of their people and capabilities and get software that works the way they think with the latest release of Infor SyteLine ERP 10x. Manufacturers will be able to expand capabilities, get a new look and feel, take advantage of additional industry-specific capabilities, and increase visibility into their business at all levels.
About Infor
Infor is fundamentally changing the way information is published and consumed in the enterprise, helping 70,000 customers in 194 countries improve operations, drive growth, and quickly adapt to changes in business demands. Infor offers deep industry-specific applications and suites, engineered for speed, and with an innovative user experience design that is simple, transparent, and elegant. Infor provides flexible deployment options that give customers a choice to run their businesses in the cloud, on-premises, or both.