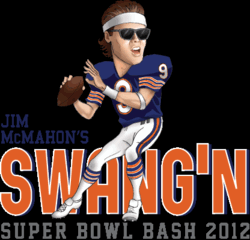 This feed is going to be one of the most special things any one does Super Bowl week!
(PRWEB) January 30, 2012
Jim McMahon has invited twenty wounded warriors, celebrity guests and many others to his Super Bowl celebration on Thursday, Feb 2nd at the Rathskeller in Indianapolis.
During the live feed, Jim and some of his celebrity guests will be able to chat with the soldiers and learn what the soldiers have been working towards in Afghanistan. The live feed would be with the 4-19th ADT serving in Khost Province in Afghanistan. They are working in a very dangerous part of Afghanistan to help the farmers there. Afghanistan was once a major world agricultural economy, much like California. Most of it has been destroyed by war, long before the US invaded. These soldiers are working to help them reclaim that agricultural economy and heritage. There are more than a dozen National Guard units that have been staffed with soldier-farmers, guardsmen with a civilian background in agriculture. This feed is going to be one of the most special things any one does Super Bowl week!
WXIN-TV, Fox59 will be coordinating the Live Feed and bringing everyone together at Jim McMahon's event.
The event sponsors are: Allied Solutions. United Airlines, Pepsi,Corona, Tito's Vodka, Shpoonkle, Smart Water – Vitamin Water, SharpUSA, as well as other notable contributors. Please join Jim McMahon and his celebrity friends for a patriotic celebration of our great country as we honor Wounded Warriors and Troops returning from Iraq & Afghanistan. Jim McMahon has had a close relationship with Hope For The Warriors®, and has been a long-time supporter to our military service members. Jim went to Iraq with the USO to visit American forces in the field.
Concert proceeds will benefit:
Hope For The Warriors®
The mission of Hope For The Warriors® is to enhance quality of life for U.S. service members and their families nationwide who have been adversely affected by injuries or death in the line of duty. Hope For The Warriors® actively seeks to ensure that the sacrifices of wounded and fallen warriors and their families are never forgotten nor their needs unmet
Lynda McMahon Ferguson Foundation for Literacy (LMF)
The LMF is a nonprofit foundation was founded several years ago by Jim McMahon in honor of his late sister and benefits initiatives in literacy.
Host Jim McMahon welcomes his celebrity friends and guests to Super Bowl 2012 at the renowned Rathskeller. The event is set in the historic 19th century Athenaeum Building in downtown Indianapolis. The Rathskeller is reminiscent of both a quaint inn tucked in the Bavarian hills and a lively beer hall in Munich.
Tickets are still available through online purchase at http://www.swangwear.com/indy and http://www.ticketleap.com/events/jim-mcmahon. General Admission and VIP Tickets will be available for purchase. Corporate Sponsorships are still available for this event.
Please check the web site for attending celebrities as this list will be updated daily.
For more information about the event or to participate as a sponsor please visit http://www.swangwear.com/indy or call D. Morgan at 954-591-8656.
For more information on Hope For The Warriors® please contact Anne M. Woods, Public Relations Director http://www.hopeforthewarriors.com
###