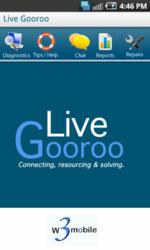 Wilson, NC (PRWEB) February 10, 2012
W3 Mobile has just finished development of the Live Gooroo App, and it's good news for users with PC troubles. Users don't have to be a tech savvy "Gooroo" either. The app has a very user-friendly interface and provides helpful FAQs and support resources to assist users. It has multiple programs for diagnosing and repairing computers and includes anti-virus and anti-spyware utilities.
With Live Gooroo™, users can save time, cut costs and fix issues themselves through an automated computer repair process. Live Gooroo provides a simple menu for users to fix problems and optimize performance on their computers with just the tap of a button. This new Mobile App is the first of its kind and has some very useful repair utilities for PCs.
Automation is the key. The simple button commands in the app do all the work for users without the usual point, click, open and download. More importantly, the mobile device is running on a separate OS protected from viruses, problems and inconsistencies of desktop troubleshooting and has a knowledge base of resources at your fingertips.
An important component of this technology relies on the targeted toolset of repair routines. We developed a set of routines to handle most of the day to day issues that affect computers. This includes performance, Windows errors, memory, storage problems, security, software, hardware, viruses and spyware.
To see the video demo, click here: http://www.youtube.com/watch?v=t1NNafBSR8w&feature=youtu.be
About W3 Mobile:
W3 Mobile, LLC, develops applications for mobile devices. W3 Mobile is the creator of Live Gooroo™, a mobile app created for performing repair routines on personal computers.
For more information, visit http://www.livegooroo.com, or follow Live Gooroo on Twitter (twitter.com/W3MobileLLC)
Recommend Live Gooroo on Facebook http://www.facebook.com/livegooroos
###