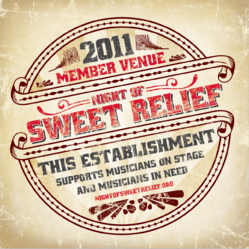 "The entire staff at Goldenvoice is extremely proud to take part in this worthwhile cause. Seeing so many organizations come together with one common goal is really great." -Paul Tollett, President at Goldenvoice.
(PRWEB) October 04, 2011
The weekend of Oct 14/15 will mark the inaugural event for "Live Music Night – Night of Sweet Relief". Two hundred music venues throughout the U.S. and internationally have signed on to participate in this annual weekend to celebrate and promote live music performance. Music fans are being encouraged to attend their local clubs, bars, theatres and arenas to show support for musicians and the places they perform. In addition, as a goodwill component for the event, national non-profit charity Sweet Relief Musicians Fund, will be raising contributions for ill, disabled and elder musicians facing financial hardship.
Lead sponsors for "Live Music Night" include ReverbNation, IM Radio, Billboard Touring Conference & Awards, New Music Tipsheet, Heil Sound and the team behind Record Store Day. Partner support also came from top ticketing companies TicketMaster, Ticketfly, TicketBiscuit, TicketWeb and Ticket Alternative.
This year's event includes a dozen+ highly anticipated shows from two of the nation's top promoter/venue entities,House of Blues Entertainment and Goldenvoice.
"Music is life and we need to take care of those that give life to the music," said House of Blues Entertainment Chief Operating Officer Ben Weeden. "We're incredibly happy to be a part of the amazing line-up that's helping get that done with this very special Live Music Night event."
Paul Tollett, President at Goldenvoice offered this comment. "The entire staff at Goldenvoice is extremely proud to take part in this worthwhile cause. Seeing so many organizations come together with one common goal is really great."
The idea for this annual event came from the Sweet Relief executive team of Rob Max & Bill Bennett. "We were trying to find a way to put a focus on live music performance and create a charitable event that anyone could attend" said Executive Director, Rob Max. "The greatest source of income for musicians comes from playing live. We wanted to recognize that important partnership of artist, venue, promoter and ticketing company" he added. A wide variety of shows, rock, pop, country, jazz, indie, blues, hip hop from $5 to $50 dollars are scheduled. "Often, charity concerts and shows are beyond the reach of most music fans. We created "Live Music Night –Night of Sweet Relief" to be all inclusive" stated President Bill Bennett.
Notable artists performing at participating venues include: Cut Copy, Styx, Peter Frampton, NOFX, Kiev, Odd Future, The Sounds, Thrice, Jacks Mannequin, Sonic Blossom ft, Kraddy, Random Rab, Karsh Kale, Phadroid, Jamie Janover, Eminence Ensemble, Project Aspect, The Samples, Papa Skunk and Dayquill, The Hold Steady, Jesse Malin, Zee Avi w. Foxtail Brigades, Yngwie Malmsteen, After The Burial, Veil of Maya, Misery Signals, Within the Ruins, Structures, Your Memorial, Volumes, Iration, Dark Star Orchestra, Richard Cheese and Lounge Against the Machine, Never Shout Never, J.Cole, Railroad Earth, New Found Glory, Brett Dennen, Fountains of Wayne, Portugal. The Man, Leslie West, Michael Schenker, Uli Jon Roth and Straight No Chaser. Full venue listings can be viewed at livemusicnight.org.
The 5 year success story of Record Store Day is credited as the impetus to creating "Live Music Night" Connecting the two events, key event development and a social media plan was designed by New Music Tipsheet founder Scott Perry. "I have always seen Sweet Relief as an invaluable resource for musicians in need throughout the years, and Night of Sweet Relief has done a fantastic job of spreading the word to music-loving communities around the world." said Perry
About Sweet Relief Musicians Fund - A 501C3 non-profit Charity established in 1994, Sweet Relief provides financial assistance to career musicians, singers, songwriters and composers facing financial hardship due to illness, disability or age-related problems.
About House of Blues Entertainment - With over 50 owned/operated and affiliated clubs and theaters, The House of Blues Entertainment portfolio is wide-ranging including the legendary Fillmores on both coasts and the intimate House of Blues clubs throughout the United States. House of Blues Entertainment is the country's pre-eminent live music venue collection featuring state-of-the-art sound and lighting technology in one-of-a-kind custom designed environments aimed to bring fans and artists together in unparalleled musical environments
# # #