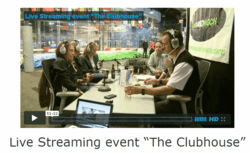 Live streaming video creates a real, two-way conversation between businesses and audiences and gives them the ability interconnect and promote their social media platforms.
Purchase, NY (PRWEB) May 10, 2013
Want to reach a broader audience without increasing costs? Live streaming video is quickly becoming an option for both small and large companies as a way to present information in real-time while having a two-way dialogue with their customers.
Dvideo Productions, a multi-media production studio based in Purchase, NY, is now offering live streaming at competitive prices.
"The service used to be cost prohibitive, but not anymore," says Arie Marek, president of Dvideo. "The price of producing live streaming has gone down as the quality of the video has greatly improved, thanks to technological improvements and the growth of broadband connections"
This translates into professional television style production at an affordable price. Many corporations, such as IBM, Pepsico and Ford, rely on live streaming video to promote new products and broadcast seminars and trade shows.
There are many ways to use the service, says Marek. For example, a global corporation could broadcast a speech from its CEO that could be seen by employees all around the world in real time. Companies can conduct live training sessions with clients and workers, without any travel expense. And live streaming can give access to consumers who couldn't have otherwise participated in the event.
Such was the case for a long-time customer of Dvideo, the Carmelite Sisters for the Aged and Infirm, which decided to live stream a Mass of Thanksgiving in honor of their Foundress, Venerable Mary Angeline Teresa, O.Carm. from a chapel in Germantown, NY. "We knew a lot of people would not be able to attend in person and we wanted to give them the opportunity to be part of the day," says Sr. Peter Lillian Di Maria, O.Carm. Director of the Avila Institute of Gerontology.
Viewers in at least eight states, as well as in Ireland, watched the 90-minute broadcast live. "It meant so much for everybody who watched it - they truly felt they were part of the celebration," says Sr. Peter.
In addition to the live stream, the broadcast was recorded and posted on the institute's website, which enables viewers to tune in whenever they want. "I know people have gone in to watch the archives," says Sr. Peter. "We also were able to make DVDs of it, so we can send it to people who want a keepsake of the Mass."
The ability to record and play-back events and upload onto platforms such as YouTube and Vimeo helps companies maximize viewer and user engagement - long after the event has taken place.
Audience interaction is another benefit of live streaming video, according to another Dvideo customer, Mark Jeffers, a co-host for "The Clubhouse" weekly radio talk show that features local golf pros and touring sports celebrities. "Live streaming allows our audience to interact with us 'live,' asking questions and gathering information immediately," says Jeffers. "It enables us to utilize visuals to bring in a larger audience by having instruction and ways to improve your golf game and other physical tips, which is much harder to explain simply with audio."
Jeffers says that the audience responded very positively to the event, mostly through social media. That's one of the greatest benefits of live streaming - the technology creates a real, two-way conversation between businesses and audiences, allowing viewers to submit questions, comment on the content and participate in polls. Furthermore, it enables companies to interconnect and inter-promote their platforms, such as Facebook and Twitter.
It also enables businesses to collect viewer information, says Marek. "A company can choose to have viewers supply an email address, for example, if they want to see the video. There are also pay-for-view opportunities, if you want to charge for an event."
Dvideo now offers event streaming using a broadcast quality switcher.
"This new option allows us to present a quality a professional television style production with picture-in-picture capability, transitions, graphics, and lower thirds and titles," says Marek. "We can bring in various mix sources, resolutions and aspect ratio cameras, Skype feeds and raw footage. At the same time, we can encode and archive a high-definition copy and compress and broadcast live feeds.
"This allows for extensive audio input/output flexibility and even the use of green screens to place people or products on virtual sets," he adds.
Marek says planning is key to the success of live streaming an event. "We like to meet with the client in advance, to check the sound and the lighting and Internet connections, and to make sure that the equipment is working. This ensures that the event will go off without a hitch."
About: Dvideo Productions Inc. is a multi-media production studio based in Purchase, NY. The company provides an array of services, from live streaming and corporate video production to 3D animation, media duplication and replication, and digital video editing. It also offers clients full access to a state-of-the-art video production studio and sound stage. For more information, go to http://www.dvideoproductions.com