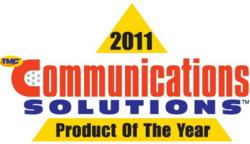 "LiveAction has proven benefits for its customers and provides ROI for the companies that use it." Rich Tehrani, CEO, TMC
Honolulu, HI (PRWEB) August 16, 2012
ActionPacked! Networks announced today that TMC, a global, integrated media company, has named LiveAction as a recipient of a 2011 Communications Solutions Product of the Year Award.
The award-winning LiveAction is built upon a network services management foundation that provides an intelligent and rich visualization approach capturing actual routing configurations enabling users to better understand their systems, debug and implement changes faster, and literally see flows, routes, and QoS policies in real-time across their network.
"This award is further support for our unique network management visualization approach that underscores ActionPacked!'s technical and engineering expertise," said Dana Matsunaga, president and CEO, ActionPacked! Networks. "We are extremely pleased to be the recipient of the TMC Communications Solutions Product of the Year award, and we are committed to constantly improve our solutions to help simplify the complexities of managing the network for our customers.
The new LiveAction 2.5, released in July 2012, is downloadable as a no-cost trial and was developed to meet business demands by delivering innovative new features and capabilities to help accelerate deployment of rich-media applications, minimize complexity and operational costs, and increase visibility into the network to provide users with the best quality network experience.
"ActionPacked! Networks was chosen to receive a 2011 Product of the Year Award for creating outstanding advancements in communications," said Rich Tehrani, CEO, TMC. "LiveAction has proven benefits for its customers and provides ROI for the companies that use it. Congratulations to the entire team at ActionPacked! Networks. I look forward to more innovative solutions from them in the coming year."
The Communications Solutions Product of the Year Award recognizes the vision, leadership, and thoroughness that are characteristics of the prestigious award. The most innovative products and services brought to the market from March 2011 through March 2012 were chosen as winners of the Communications Solutions Product of the Year Award.
The 2011 Communications Solutions Product of the Year Award winners are published on the INTERNET TELEPHONY and Customer Interaction Solutions Websites.