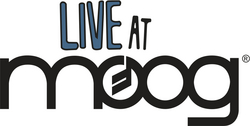 The second season of Live at Moog gives a rare glimpse into the magic that happens when great musicians connect with interesting new gear in the Moog sound studio
Asheville, NC (PRWEB) April 21, 2010
On Wednesday, April 21st at 7 pm EST, Moog Music, Inc. and Pastemagazine.com will launch the second season of Live at Moog with Amanda Palmer. Live at Moog is an innovative web video series featuring performances filmed at the legendary Moog Music factory in Asheville, North Carolina.
Bands are turned loose in Moog Music's factory and encouraged to experiment with the extraordinary instruments designed and manufactured there including analog synthesizers, effects pedals, the Theremin and the groundbreaking Moog Guitar. "The moog factory was incredible…. [they] made us feel incredibly welcome and let us run around like geeks," says Amanda Palmer.
Each week a new session of Live at Moog will debut on Pastemagazine.com's homepage and on LiveatMoog.com. Each episode features multiple songs, behind-the-scenes footage and exclusive band info. This season features Amanda Palmer, RJD2, Umphrey's McGee, Joseph Arthur, Cage the Elephant, Evan Dando, and Rogue Wave. Adding to the excitement, this season Moog is giving away a Moog Guitar signed by the Live At Moog artists to one lucky viewer.
"The second season of Live at Moog gives a rare glimpse into the magic that happens when great musicians connect with interesting new gear in the Moog sound studio," says Mike Adams, CEO of Moog Music. "It's exciting for us to watch some of today's most innovative artists play and experiment with our state-of-the-art analog instruments and we are proud to share these one-of-a-kind performances with music fans everywhere through our partnership with Paste Magazine."
Live at Moog can be viewed at http://www.liveatmoog.com or http://www.pastemagazine.com/moog.
About Amanda Palmer:
Amanda Palmer is a performer, director, composer and musician who is best known for her role as front woman and keyboardist for internationally acclaimed punk-cabaret band The Dresden Dolls. In 2008, Amanda released Who Killed Amanda Palmer, her debut solo album produced by Ben Folds. Amanda is currently on a world wide tour in collaboration with Jason Webley as Evelyn Evelyn in support of their debut self-titled concept album which chronicles the life of multi-instrumentalist conjoined twin sisters Eva and Lyn Neville.
About Live at Moog:
The Live at Moog series is filmed and directed by Rod Murphy and Pete Lutz, and is engineered and recorded by Jeff Knorr. Thanks to Gallien-Krueger, Blue Microphones, and Sony Creative Software.
About Moog Music
Moog Music and its customers carry on the legacy of Bob Moog, the inventor of the synthesizer. Moog designs and manufactures electronic musical instruments, including Little Phatty® and Minimoog® Voyager® synthesizers, Moogerfooger® effects modules, Etherwave® theremins and The Moog Guitar. Founded by Bob Moog, Moog Music designs and manufactures its products in Asheville, NC.
About Paste Magazine:
Paste magazine is quickly becoming the most celebrated entertainment magazine in the U.S. with two National Magazine Award nominations for general excellence, dozens of other awards and endorsements from USA Today, The NY Daily News and The Wall Street Journal, who calls Paste "the finest among American music titles. This highly engaged and devoted audience (including more Twitter followers than any other music magazine) goes to Paste magazine and PasteMagazine.com to discover the Best of What's Next in music, film, books, games and television.
About Music Allies:
The series was conceived and produced by Music Allies. Music Allies connects people to music through innovative marketing. Artists, festivals and brands like Ani DiFranco, Brushfire Records, Aimee Mann, the Bonnaroo Music Festival, G Love, Mason Jennings, the Hangout Music Festival, Outside Lands, Camp Bisco, and Tennman Records look to Music Allies for their marketing expertise.
# # #