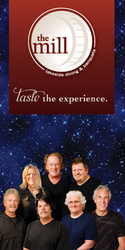 Live at the Mill gives fans an unbelievable opportunity to see the entertainers they have followed for years in an intimate setting where the farthest seat in the house is only 65 feet from the stage
Spring Lake Heights, NJ (PRWEB) April 30, 2010
They filled Madison Square Garden and the Academy of Music…headlined at The Filmore East and the Whiskey a Go Go… and today you can see big name performers, like the Jefferson Starship up close and personal… "Live at the Mill" restaurant in Spring Lake Heights, NJ.
The Live at the Mill concert series features groups like the Jefferson Starship, appearing May 20th and other well known acts including: Comedian Rob Bartlett, June 17th, legendary folk singer Richie Havens, June 24th, tenor Michael Amante, July 15th, Rock and Roll Hall of Fame Inductees the Lovin' Spoonful, July 22nd, and Dave Mason, August 12th, Andre & Cirell with Pittsburgh rocker and collaborator with Bruce Springsteen, Joe Grushecky & the Houserockers August 19th, and E-Street Band member Nils Lofgren, September 10th.
"Live at the Mill gives fans an unbelievable opportunity to see the entertainers they have followed for years in an intimate setting where the farthest seat in the house is only 65 feet from the stage," said Don Rodgers, CEO of the Mill. "Our dinner show packages include a complete three course dinner and show tickets for as little as $75 per person plus tax. It's a great way to spend an evening with friends in a fine dining atmosphere while recapturing some of the memories we all associate with these legendary performers. Past patrons of The Mill have enjoyed an evening with such performers as America, Judy Collins, The Marshall Tucker Band, and Poco."
According to Rodgers, The Mill provides a convenient lakeside setting in which to enjoy fabulous entertainment and fine dining. "We've all experienced the excitement of seeing our favorite groups in large, crowded venues. However, we find that our patrons appreciate a smaller intimate setting where they can really connect with the artist on a much more personal level."
In addition to "Live at the Mill" concerts, the landmark restaurant offers themed parties at their monthly Mingles Networking Dance Nights, Latin Dance Nights, Big Band Nights and wine tastings. Ticket information, a complete event schedule, plus a variety of fine and casual dining offerings can be obtained online by visiting The MillNJ.com and by calling 732-449-1800.
###