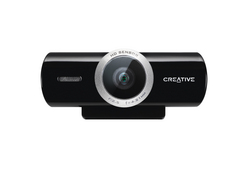 Additionally, we wanted to introduce a new form factor that helps people make eye-contact more effectively during video chatting than many previous generation web cams, which can have the effect of looking down on you. The Live! Cam Socialize HD offers HD quality video and a robust software suite for less than many competitive cameras that don't even offer HD
Milpitas, CA (Vocus) October 20, 2009
Upload Videos to YouTube Via Integrated One-Click Uploading and Share Pictures, Slide Presentations or Any Open Desktop Application During Video IM Sessions Using New Live! Central 2 Software
MILPITAS, Calif., Oct. 19, 2009 – Creative? today announced the Live! Cam Socialize HD web cam that has Creative's highest quality ever for video chatting on Skype, Yahoo and MSN, and for recording video in high definition to post on social media sites, including YouTube. The Live! Cam Socialize HD streams up to 30 frames per second in HD for a smooth video experience. The Live! Cam Socialize HD's recording capability allows the user to film their vlog or video in high definition quality as opposed to traditional VGA web cams that often look blurry. Users can then upload their HD videos with one-click uploading to YouTube instead of having to take multiple steps to get videos uploaded.
The Live! Cam Socialize HD is so small it's perfect for use with netbook, notebook or even desktop computers and it's so lightweight that it stays securely attached to any monitor, unlike larger previous generation cameras where the weight would make them unstable and shift away during use.
"The Live! Cam Socialize HD features a new low profile design, which brings the lens closer to eye-level, allowing for better eye-contact during video chatting, significantly improving the visual experience. Just as we improved the visual quality we have focused on the audio quality and the built-in noise-canceling microphone eliminates background noise for clearer audio, allowing the user to listen to music or be in a noisy environment without comprising audio clarity, said Steve Erickson, VP and GM for Audio and Video at Creative.
"According to the official YouTube blog, as of May 2009, 20 hours of video were uploaded to the site every minute, the equivalent of Hollywood releasing over 86,000 new full-length movies into theaters each week. There are so many social aspects of video and people want to use their web cams for video chatting and filming vlogs and video and we wanted to improve the overall experience by designing the Live! Cam Socialize HD with improved video quality, easy video uploading capabilities and a robust software suite.
"Additionally, we wanted to introduce a new form factor that helps people make eye-contact more effectively during video chatting than many previous generation web cams, which can have the effect of looking down on you. The Live! Cam Socialize HD offers HD quality video and a robust software suite for less than many competitive cameras that don't even offer HD," added Erickson.
The Live! Cam Socialize HD delivers 16:9 widescreen video in 720p resolution for recorded videos so users can easily record a vlog or video right from their desktop and then edit the video by adding audio and video effects. Uploading to social media web sites, including YouTube is easy using the integrated one-click uploading feature right from the Live! Central 2 software screen. The enhanced Live! Central 2 software suite features new MediaShow and Desktop Share features. With MediaShow, users can easily share photos and slide presentations as a slideshow in the IM video window of video messaging clients. Desktop Share enables users to share any live content shown on the desktop, including videos and documents.
Live! Central 2 Software Suite Features

MediaShow – share photos and presentations as a slideshow in the IM video window
Desktop Share – share any content on your desktop live, including videos, photos and documents
Social Media Integration – simple video uploading to YouTube, with one-click uploading to additional social media sites to be available in downloadable software updates
Audio and Video Effects – liven up video chats and recorded videos by adding multiple effects such as funny back grounds and voice morphing, or with Live! Cam Doodling, which enables users to draw directly onto the screen
Password protected parental control
Live! Cam Socialize HD Features

Super small lightweight design with a flexible base works exceptionally well with netbooks, notebooks or desktop PCs
Instantly access your online contact list at the touch of the Live! Contacts button
True HD sensor and Hi-Speed USB 2.0 combination
Optimal HD resolution delivers 720p for recorded videos (1280 x 720) for wide screen displays (16:9)
High frame rate, smooth video capture (up to 30 fps)
5.7 MP* Photo Capture
Noise-cancellation microphone
USB 2.0 Hi-Speed
Pricing and Availability
Live! Cam Socialize HD is available now at Fry's retail stores and for pre-order at http://www.amazon.com for US$69.99. For more information please visit http://www.us.creative.com.
About Creative
Creative is a worldwide leader in digital entertainment products. Famous for its Sound Blaster® sound cards and for launching the multimedia revolution, Creative is now driving digital entertainment on the PC platform with products like its highly acclaimed ZEN MP3 and portable media players. Creative's innovative hardware, proprietary technology, applications and services leverage the Internet, enabling consumers to experience high-quality digital entertainment—anytime, anywhere.
This announcement relates to products launched in the United States. Availability is subject to change without notice and may differ elsewhere in the world according to local factors and requirements. Creative Central and Socialize are trademarks or registered trademarks of Creative Technology Ltd in the United States and/or other countries. All other trademarks are the property of their respective owners.
*Software interpolated
###