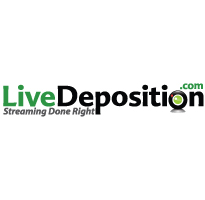 We are looking forward to showing court reporting professionals the most user friendly, cost-effective and profitable deposition streaming software available
Los Angeles, CA (PRWEB) March 01, 2012
LiveDeposition.com, a division of Live Cloud Depositions, LLC and a global provider of web-based real-time streaming deposition solutions will be exhibiting at the upcoming Society for the Technological Advancement of Reporting (STAR) 2012 Mid-Year Conference being held at Caesars Palace in Las Vegas, from March 15-17, 2012.
The STAR 2012 Mid-Year Conference is an opportunity for court reporters and agencies to gather together and get the latest information and updates in their industry, including information on the most cutting-edge technology available to them. This will be LiveDeposition.com's first appearance at STAR's Mid-Year Conference since the debut of their web-based streaming deposition software in May of 2011.
Firm owners, agencies and individual court reporters will have the opportunity to see firsthand how LiveDeposition.com works and be able to speak with company representatives on the spot. Steven Genter, Director of Business Development for LiveDeposition.com, will be representing the company and showcasing LiveDeposition.com through real-time demonstrations. "We are very excited about attending the upcoming STAR Mid-Year Conference. Our product has been very well received since its introduction to the court reporting industry and we are looking forward to showing court reporting professionals the most user friendly, cost-effective and profitable deposition streaming software available to them".
About LiveDeposition.com
Headquartered in Sherman Oaks, CA, LiveDeposition.com is powered by MegaMeeting.com; a long time resident of the video and web conferencing industry. Through their cutting-edge technology, LiveDeposition.com provides the Legal Industry with web-based deposition and video conferencing solutions. Being exempt from typical download and installation requirements, LiveDeposition.com has proved itself to be a hassle-free way to stay connected, allowing court reporting agencies, court reporters, paralegals, industry experts and legal teams to streamline the litigation process and conduct real-time depositions and online meetings.
For more information on LiveDeposition.com please visit http://www.livedeposition.com or call 888.337.6411.
For more information on MegaMeeting.com please visit http://www.megameeting.com or call 877.634.6342.
###