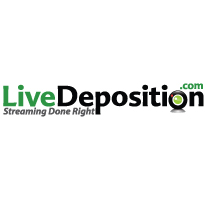 Our goal for attending this event is to make legal professionals aware of how much time and money they can save by requesting the ability to remotely participate in realtime depositions
Los Angeles, CA (PRWEB) May 15, 2013
LiveDeposition.com, a leader in web-based realtime streaming deposition and video conferencing solutions, has announced today that they will be exhibiting at the 2013 LegalTech® West Coast Conference being held at the Los Angeles Westin Bonaventure Hotel and Suites from Tuesday May 21 to Wednesday May 22, 2013.
LegalTech® West Coast is produced by ALM Media Properties, LLC, and is designed to inform and educate law firms and legal departments on the latest technology available to them. This is the second time LiveDeposition.com will be exhibiting at a LegalTech® event since their product was first released in 2011.
LiveDeposition.com has played a significant role in the evolution of technology within the legal industry by providing legal teams with a way to remotely attend depositions and legal proceedings from any internet enabled computer, tablet or smartphone.
Those attending the 2013 LegalTech® West Coast will be able to see first-hand how LiveDeposition.com works and will be able to speak one-on-one with company representatives. In addition to demonstrating their web-based deposition product, LiveDeposition.com will also be showcasing their brand new local realtime application, as well as their state-of-the-art video conferencing offering.
"LegalTech® is one of the most important legal technology events of the year. Our goal for attending this event is to make legal professionals aware of how much time and money they can save by requesting the ability to remotely participate in realtime depositions." stated Steven Genter, Director of LiveDeposition.com. "We first released LiveDeposition.com at the 2011 LegalTech® West Coast Conference and are excited for attendees to see how much the product has grown and evolved."
Those interested in getting a hands-on demonstration, or to speak with a LiveDeposition.com representative, are invited to stop by and visit booth number 422 during the conference.
About LiveDeposition.com
Headquartered in Sherman Oaks, CA, LiveDeposition.com is powered by MegaMeeting.com; a long time resident of the video and web conferencing industry. Through their cutting-edge technology, LiveDeposition.com provides the Legal Industry with web-based deposition and video conferencing solutions. Being exempt from typical download and installation requirements, LiveDeposition.com has proved itself to be a hassle-free way to stay connected, allowing court reporting agencies, court reporters, paralegals, industry experts and legal teams to streamline the litigation process and conduct real-time depositions and online meetings. LiveDeposition.com offers mobile apps for iOS and Android users, making its state-of-the-art solutions easily accessible via iPhones, iPads, as well as all Android enabled tablets and smartphones.
For more information on LiveDeposition.com please visit http://www.livedeposition.com or call 888.337.6411.