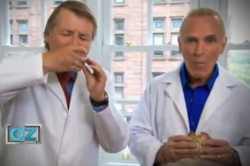 "Everything the medical community believes about cholesterol is wrong."
Reno, NV (PRWEB) April 25, 2013
Dr. Oz's guests Dr. Stephen Sinatra, cardiologist, and nutritionist Dr. Jonny Bowden said, "Everything the medical community believes about cholesterol is wrong." They co-authored the book, The Great Cholesterol Myth.
It seems for years, the drug industry's outdated and biased studies duped us all so well, statin drugs ballooned to a $30 billion/year industry.
But now, more doctors are questioning, "Why are my patients with low cholesterol still dying from heart attacks?"
Dr. Sinatra says cholesterol doesn't mean much unless you have a level over 320. Hundreds of peer-reviewed medical studies show the real causes of heart disease are: inflammation, oxidative stress (caused by excessive free radicals), sugar, and stress.
Because blood vessels are lined with an ultra thin layer of cells called the endothelium. When healthy, the endothelium is slippery smooth so blood flows easily.
But the super thin endothelium is easily damaged by oxidative stress and inflammation. Here's how damage leads to common symptoms of heart disease:
1. Oxidative stress inside blood vessels trigger inflammation
2. This roughens the endothelium for fats to stick
3. Artery walls thicken from the fat buildup (atherosclerosis)
4. This triggers more inflammation, eventually leading to arteriosclerosis
5. Excess inflammation bursts some of the plaque buildup, which releases particles that create more oxidative stress. The cycle continues.
6. As inflammation continues, blood clots form, which can lead to heart attacks or strokes.
World renowned cardiologist Dr. Dwight Lundell agrees, "Without inflammation, cholesterol would move freely throughout the body as nature intended. It is inflammation that causes cholesterol to become trapped."
That's the same inflammation linked to hundreds of health conditions from arthritis to Alzheimer's.
Says Mike McNeill, Chief Living Officer of Live Gracefully, "We've been educating customers about the cholesterol-inflammation-oxidative stress link since our beginning. I'm glad Dr. Oz brought it mainstream. Hopefully, this knowledge will save more lives."
Considering the list of dangerous side-effects associated with statins, supplements may be a safer and more effective choice for heart health. Dr. Bowden suggests curcumin. "I am nuts about this…It has anti-inflammation; it has antioxidants; it's good for the liver."
Live Gracefully's Anti-inflammatory + Antioxidant formula contains Longvida®, which is 65 times more bioavailable than standard curcumin. And it includes several of the most researched anti-inflammatories and antioxidants for brain and body protection.