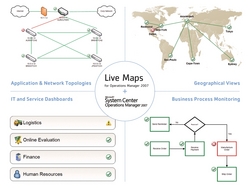 Associating IT failures to our applications and IT services is a difficult proposition without understanding the relationships between components that connect a specified service. Being able to visualize these relationships and their associated alerts is a vital element that our organization has strived to achieve for years
Utrecht, The Netherlands (PRWEB) March 17, 2009
Savision B.V., the leader in Microsoft® System Center Operations Manager visualization, today announced the availability of a free version of Live Maps for Microsoft Operations Manager 2007. Microsoft Operations Manager administrators everywhere can now benefit from the extraordinary visualization capabilities of Live Maps v3. The free version is fully functional and allows IT organizations to create three maps of any type.
Live Maps allows IT organizations to easily conceive, build and maintain large-scale monitoring maps. New wizards and templates allow IT professionals to quickly construct dynamically updated network and application topologies, geographical views, complex business processes and executive dashboards. Network link-awareness features ensure that the full IT picture is provided. This ensures that employees at all levels, from the IT operator to the business executive, have access to the information needed to proactively manage IT problems.
"Associating IT failures to our applications and IT services is a difficult proposition without understanding the relationships between components that connect a specified service. Being able to visualize these relationships and their associated alerts is a vital element that our organization has strived to achieve for years", said Brian Muffley, Global Framework Engineering Manager (ICT), Lend Lease Corporation. "Live Maps allows us to meet this requirement and provides a dynamic environment that simplifies impact analysis and availability monitoring. We have found that Live Maps is helping us to communicate the health of our services, not only to applications and support teams but also to senior management by utilizing their dashboards and drill through technology."
The free version of Live Maps may be downloaded at http://www.savision.com/free.
About Savision
Savision provides advanced visualization solutions for Microsoft's System Center Operations Manager. Savision's Live Maps allows IT Pros to quickly create monitoring maps that visualize business processes, network and service topologies, executive dashboards and geographical maps. Founded in 2006, Savision is headquartered in the Netherlands and is privately held. Savision's founders and executives bring years of enterprise systems and application management experience from large IT service companies. For more information, go to http://www.savision.com.
###