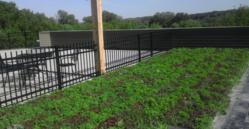 We specify LiveRoof because of its natural beauty, ease of installation, and its relative price advantage over other green roof systems
Madison, WI and Spring Lake, MI (PRWEB) October 02, 2012
LiveRoof, LLC announced that Rouse Management completed the Parman Place Apartment project in Madison, Wisc. by adding an 800-square-foot green roof. The LiveRoof® Hybrid Green Roof System from LiveRoof, LLC (Spring Lake, Mich.) was selected for the project. Knothe & Bruce Architects, LLC (Middleton, Wisc.), the architect for Parman Place, designed the green roof.
Parman Place is a three-story, urban in-fill development with 18 studio, one- and two-bedroom apartments and 3,400 square feet of commercial space. The green roof provides a landscaped setting for a rooftop patio area, which features a pergola, outdoor tables and chairs, and a grill.
"Because of the relatively small size of the building, we had limited space for a common area. So, we went up to the roof," said Karen Rouse, general manager, Rouse Management. "We wanted to create a green space with a green roof to establish a visual connection from the rooftop patio to the landscape of the UW Arboretum."
According to Rouse, LiveRoof was selected for the project because it is a low-maintenance green roof suitable for Wisconsin's climate. "We wanted a green roof that would be easy to maintain and offer visual appeal in spring, summer and fall," she said.
"Incorporating a green roof into the design of the roof terrace creates a wonderful outdoor amenity," said J. Randy Bruce, AIA, managing member, Knothe & Bruce Architects, LLC. "We specify LiveRoof for green roof projects because of its natural beauty, ease of installation, and its relative price advantage over other green roof systems."
"LiveRoof, LLC is the only green roof company that selects, tests and develops specialized plants for the challenging environment of the rooftop," said Dave MacKenzie, horticulturalist and president, LiveRoof, LLC. "On the day we delivered LiveRoof for installation, the system modules were plentifully pre-vegetated with regionally adapted and cultivated plants — already full-grown and flourishing and ready for the rigors of the rooftop. Establishing a green roof with mature plants minimizes maintenance requirements."
Parman Place, in Madison's unbeatable Monroe Street neighborhood, is located on the site of the old Parman's Service Station at the corner of Monroe and Glenway Streets. It is across from the University of Wisconsin Arboretum and within walking distance to Lake Wingra. Rouse Management and its partners in Parman Place, LLC invested $2.9 million to remediate and convert the underutilized, brownfield site into an attractive housing complex to meet the demand for apartments in the City of Madison.
About Rouse Management
Founded in 1965, Rouse Management started with a few rental houses in downtown Madison, Wisc. Through the acquisition of larger apartment communities and formation of partnerships to develop new sites, the Rouse Management portfolio has grown to include more than 1,000 apartments in Madison and Milwaukee. Today, we have expanded into commercial real estate. Our company looks forward to future developments while at the same time remaining committed to our core values of providing the best apartment communities maintained to the highest standards. For more information, http://www.rousemgmt.com.
About Knothe & Bruce Architects, LLC
An award-winning architectural firm in Wisconsin for almost 40 years, Knothe & Bruce Architects maintains a fresh, vital approach to design. This quality extends beyond the brick and mortar of the housing, commercial, retail and office developments we design. For more information, http://www.knothebruce.com.
About LiveRoof
LiveRoof®, LLC (http://www.liveroof.com) is the top horticultural science company in the green roof industry. Exceptional in design and function, the LiveRoof® Hybrid Green Roof System is the most refined horticultural solution. LiveRoof establishes a healthy, sustainable ecosystem with seamless vegetation. Licensed regional growers customize plant selection for every LiveRoof project. They deliver the system's modules abundantly vegetated with locally cultivated, full-grown plants for an instant green roof and trouble-free ownership. LiveRoof's natural function and natural beauty offer the highest level of green roof performance with ultra-low maintenance costs. The proof is on the roof — showcased in over 600 installations that total more than two million square feet.
###