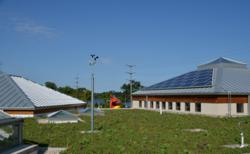 We selected LiveRoof because it establishes a green roof as a naturally functioning, living system
Rockford, IL and Spring Lake, MI (PRWEB) August 08, 2012
The Rockford, IL Park District has topped off the Nicholas Conservatory & Gardens with a 4,300-square-foot green roof garden. The LiveRoof® Hybrid Green Roof System from LiveRoof, LLC (Spring Lake, MI) was selected for the project. Christiansen Roofing, Inc. (Rockford, IL) installed the green roof, which was made possible by the financial support of Aqua-Aerobic Systems, Inc. (Loves Park, IL). A viewing deck, which can accommodate 20-30 people, is open to the public during select hours.
"The green roof decreases stormwater runoff, reduces energy use by insulating the rooftop, and extends the service life of the building's structural roof by shielding it," said Ruth Miller, manager, Nicholas Conservatory & Gardens. "In addition, the green roof allows us to enhance educational opportunities by teaching visitors about sustainability during select times when the green roof is available for tours."
"We selected LiveRoof because it is the system that establishes a green roof as a naturally functioning, living system with a continuous surface of soil," said Jason Ney, landscape architect, Rockford Park District. "In addition, LiveRoof is delivered with modules abundantly vegetated with full-grown plants. It gave us a complete and immediately beautiful green roof."
"With six inches of growing medium, the Nicholas Conservatory & Gardens green roof features taller accent plants in several native species," said Dave MacKenzie, horticulturalist and president, LiveRoof, LLC. "These plants enhance the beauty and biodiversity of the roof, recreating a natural habitat that attracts butterflies and other beneficial insects, in addition to birds such as hummingbirds."
Located at 1354 North Second Street in Rockford, IL., and situated along the banks of the Rock River in the Rockford Park District's Sinnissippi Gardens, Nicholas Conservatory & Gardens brings the tropics to the Midwest. The facility is the third largest conservatory in Illinois, with a total of 22,000 square feet. A tropical setting includes an 11,000-square-foot plant exhibition area complete with water features, seating areas, and sculptures. Nicholas Conservatory & Gardens is a LEED® (Leadership in Energy and Environmental Design) Certified facility. The new green roof system increases the Conservatory's LEED points.
The 4,300-square-foot green roof includes 4,190 square feet of LiveRoof Standard Modules (4.25 inches deep), supplemented by 128 square feet of LiveRoof Deep Modules (six inches deep).
LiveRoof modules feature the Soil Elevator™ and Moisture Portal™, patent-pending innovations which establish a LiveRoof green roof as a unified, naturally functioning ecosystem. Plant roots are free to grow in a natural way from one module to the next. This ecological integration between and above the modules maximizes the cohesiveness of the soil and plant roots to optimize plant health, long-term green roof sustainability, and green roof benefits while minimizing maintenance requirements.
About the Rockford Park District
The Rockford Park District (Rockford, IL) was formed in 1909 and is in its second century of service. The mission of the Rockford Park District is to be the "best" urban park and recreation system in North America, as judged by those it serves. It is the second largest park and recreation system in Illinois, and has twice been awarded the prestigious National Gold Medal for excellence in parks and recreation management, and is a Distinguished Agency, professionally accredited for high standards and superior services. The Rockford Park District includes 176 parks and facility sites that encompass 125 square miles. More than 9.5 million users enjoy the parks annually. More information is available at http://www.rockfordparkdistrict.org.
About LiveRoof
LiveRoof®, LLC (http://www.liveroof.com) is the top horticultural science company in the green roof industry. LiveRoof establishes a healthy, sustainable ecosystem that covers the rooftop with seamless vegetation. Licensed regional growers customize plant selection for every LiveRoof project. They deliver the system's modules abundantly vegetated with locally cultivated, full-grown plants for an instant green roof and trouble-free ownership. LiveRoof's natural function and natural beauty offer the highest level of green roof performance with ultra-low maintenance costs. The proof is on the roof — showcased in over 600 installations that total more than two million square feet.
###