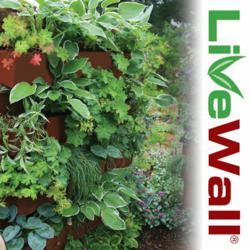 I have confidence in LiveWall because I know the meticulous detail that went into its development.
Spring Lake, MI (PRWEB) August 22, 2012
The LiveWall, LLC subsidiary of Hortech, Inc. announced that the horticultural scientists and plant biologists who designed LiveWall have devised three special LiveSoil™ formulas for (1) Sedums and Succulents; (2) Annuals and Vegetables; and (3) Perennials, Herbs and Tropicals. Thus, LiveWall®, the planted wall system that transforms ordinary walls into vertical green landscapes, supports an extensive diversity of plant life: sun- and shade-loving perennials, annuals, vegetables, herbs and medicinal plants, and tropicals. LiveWall is engineered to be attractive, simple to install, easy to maintain and change — and, above all, healthy for plants.
"As part of the four years of R&D we devoted to LiveWall design, we tested and refined three soil mixes to create the proper soil for the various types of plants landscape architects and designers can include in LiveWall installations," said Dave MacKenzie, horticulturalist and president of Hortech, Inc. and its LiveWall, LLC and LiveRoof, LLC subsidiaries. "LiveWall offers incomparable versatility for designing living walls."
"LiveWall offers a new option for incorporating an eco-friendly amenity into a landscape," said Vince Mack, sales and design manager, In Harmony Sustainable Landscapes, Bothell, Wash. "We recommend LiveWall because we know it is the green wall solution that works with a wide variety of plants."
"I can specify LiveWall, design projects with it, and use the plants I want," said Craig Newhouse, LLA, ASLA, LEED AP, senior landscape architect, RJM Design, Inc., Grand Rapids, Mich. "I have confidence in LiveWall because I know the meticulous detail that went into its development."
LiveWall is the culmination of four years of research and development by the same dedicated team of horticultural scientists, landscape professionals, architects, roofing specialists and green building experts who created LiveRoof®, the advanced green roof system proven successful in more than 600 installations. Designed to surpass other green wall systems, LiveWall is the combined result of architectural design, systems engineering, and horticultural science — bringing together the highest aesthetic, physical, and functional attributes into a biological environment that enables plants to thrive. LiveWall provides a unique, attractive, practical, and sustainable living wall system at a reasonable cost.
LiveWall and LiveRoof will be on display at booth #417 at the Healthcare Facilities Symposium & Expo on October 2-3, 2012 at Navy Pier in Chicago. LiveWall and LiveRoof will also be on display at booth #2326-S at the Greenbuild International Conference & Expo on November 14-15, 2012 at the Moscone Center, San Francisco.
About LiveWall®
Designed with a healthy regard for plants, LiveWall® (http://livewall.com/products/livewall/) is the planted wall system that achieves simplicity and sustainability in harmony with nature. LiveWall is the result of four years of R&D by the professionals who created LiveRoof®, the superior green roof system. LiveWall supports plants as nature intended — roots growing down, stems and leaves growing up. With unsurpassed versatility to grow a diversity of plant types, LiveWall transforms ordinary walls into inspiring vertical landscapes. LiveWall is simple, effective and attractive. The system's WallTer® planter modules slide into the revolutionary RainRail® mounting tracks, which secure them in place and provide integrated mist irrigation. Just as with LiveRoof, licensed regional growers customize plant selection for every LiveWall project. They deliver the module inserts abundantly vegetated with locally cultivated plants that are full-grown and thriving for immediate success and enduring beauty. For more information, call 877-554-4065.
###