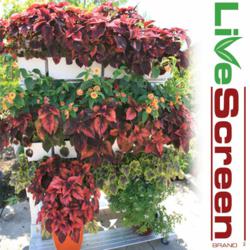 LiveScreen is a practical, portable option to create small-scale green spaces
Spring Lake, Mich. (PRWEB) July 19, 2012
Hortech, Inc. announced the introduction of LiveScreen®, the mobile version of LiveWall®, the living wall system that transforms ordinary walls into vertical green landscapes. LiveWall is the planted wall system engineered to be attractive, simple to install, easy to care for and change — and, above all, healthy for plants. LiveScreen is a two-sided, moveable version of LiveWall on wheels.
"Delivered assembled and ready for planting, LiveScreen is a practical and portable option to create small-scale green spaces that are easy to arrange and adjust," said Dave MacKenzie, horticulturalist and president of Hortech, Inc and its LiveWall, LLC and LiveRoof, LLC subsidiaries. "LiveScreen offers an ideal alternative to green up porches, patios and decks."
Constructed in a sturdy, waterproof aluminum frame, LiveScreen is available in four models. LiveScreen XL is 6 feet tall by 4 feet wide and offers five tiers of planter boxes. LiveScreen 4S is the same size, has four tiers, and adds shelves on the bottom of each side for growing plants in containers. LiveScreen Patio is 5.5 feet tall by 32 inches wide with three tiers. It also includes bottom shelves for container plants. LiveScreen Access is 5.5 feet tall by 4 feet wide with three tiers and facilitates accessibility for people in wheelchairs. Every model of LiveScreen is available with optional automated irrigation components and a hose timer.
LiveScreen utilizes the LiveWall system's modular WallTer® planter boxes, which slide into mounting tracks that secure them in place. The WallTers, manufactured in recycled architectural grade plastic, are 6 inches deep by 5 inches wide and come in 8-inch and 16-inch lengths. They are available in six colors: beige, cool gray, wheat, cedar, sage, and salsa. With WallTers, LiveWall and LiveScreen support plants as nature intended — roots growing down, stems and leaves growing up. The result: beautiful vegetative walls and screens with hearty plants thriving in a sustainable system.
LiveWall and LiveScreen offer unsurpassed botanical versatility and can grow sun- and shade-loving perennials, annuals, succulents, tropicals, and vegetables and herbs. The WallTer inserts slide in and out of the WallTer modules effortlessly, making it easy to change plants and add new ones.
"What is so exciting about LiveScreen is the way the different models can be used to create beautiful private spaces with such a diverse palette of plants," said Cathy Bell, a landscape designer in Portland, Ore.
LiveWall is the culmination of four years of research and development by the same dedicated team of horticultural scientists, landscape professionals, architects, roofing specialists and green building experts who created LiveRoof®, the advanced green roof system proven successful in more than 600 installations. By design, LiveWall surpasses other green wall systems.
The LiveWall planted wall system, including all four LiveScreen models, will be exhibited at IGC 2012, the independent garden center show, on August 21-23, 2012 at Navy Pier in Chicago, Ill. LiveWall will be at booth #918.
About LiveWall®
Designed with a healthy regard for plants, LiveWall® (http://www.livewall.com) is the planted wall system that achieves simplicity and sustainability in harmony with nature. LiveWall is the result of four years of R&D by the professionals who created LiveRoof®, the superior green roof system. LiveWall supports plants as nature intended — roots growing down, stems and leaves growing up. With unsurpassed versatility to grow a diversity of plant types, LiveWall transforms ordinary walls into inspiring vertical landscapes. LiveWall is simple, effective and attractive. The system's WallTer® planter modules slide into the revolutionary RainRail® mounting tracks, which secure them in place and provide integrated mist irrigation. Just as with LiveRoof, licensed regional growers customize plant selection for every LiveWall project. They deliver the module inserts abundantly vegetated with locally cultivated plants that are full-grown and thriving for immediate success and enduring beauty. For more information, call 877-554-4065.
###