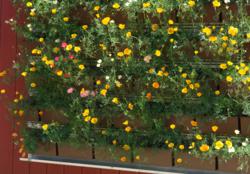 LiveWall has a wide variety of applications that complement the outdoor lifestyle we enjoy in California
Arroyo Grande, Calif. and Spring Lake, Mich. (PRWEB) October 11, 2012
Native Sons, Inc. has begun distributing and growing plants for the LiveWall® Planted Wall System in Northern and Central California. Native Sons (Arroyo Grande, Calif.), a wholesale nursery founded in 1979 and rooted in the heart of California's Mediterranean climatic core, cultivates and provides plants that flourish in California. LiveWall, developed by Hortech, Inc. (Spring Lake, Mich.), is the advanced green wall solution designed in harmony with nature.
"LiveWall has a wide variety of applications that complement the outdoor lifestyle we enjoy in California," said David Fross, horticulturalist and founder, Native Sons, Inc. "Homeowners can grow vegetables and herbs right next to their grills or outdoor kitchens. For restaurants, they can grow their own herbs and vegetables on the portable LiveScreen version. That is an ideal way to showcase their commitment to local, sustainable food production and save money on produce. Plus, they can enliven their outdoor dining areas with flowers, native grasses or succulents."
Fross started Native Sons 33 years ago with a staff of three and one acre in production. Today, Native Sons has more than 20 full-time employees and over eight acres of greenhouses and field production. A noted horticultural expert, Fross lectures on horticulture and landscaping at California Polytechnic State University, San Luis Obispo. He is the author and co-author of several books, including California Native Plants for the Garden.
LiveWall is the living wall system engineered to be attractive, simple to install, easy to maintain and change — and, above all, healthy for plants. The system's planter modules slide into the innovative RainRail® mounting tracks, which secure them in place and incorporate hidden conduits and built-in nozzles for integrated mist irrigation. The modules, manufactured in recycled architectural grade plastic, are six inches deep and five inches wide and come in 8-inch and 16-inch lengths. They are available in multiple colors that complement any façade, including beige, cool gray, wheat, cedar, sage, and salsa. LiveWall also comes in a two-sided, mobile version on wheels, LiveScreen® , a practical, portable option to green up porches, patios and decks with colorful flowers, ornamental plants and herbs and vegetables.
LiveWall is the product of four years of research and development by the team of horticultural scientists, landscape professionals, architects, roofing specialists and green building experts at Hortech, Inc. who created LiveRoof®, the refined green roof system proven in more than 600 installations — including more than 50 green roof projects in California. Native Sons is a licensed regional grower for both LiveRoof and LiveWall.
Note to Editors: LiveWall will be exhibited at the Garden Writers Association (GWA) Annual Symposium on October 12-13, 2012 at The Westin La Paloma, Tucson, Ariz. LiveWall will be at booth #504. David Fross from Native Sons, Inc. will be available for interviews.
About Native Sons Wholesale Nursery, Inc.
Founded in 1979 and located in Arroyo Grande, Calif., Native Sons is a wholesale nursery firmly rooted in the heart of California's Mediterranean climate. Native Sons cultivates and provides California native and adapted perennials, grasses and shrubs that flourish in a climate defined by moderate winter rainfall and warm dry summers. The company services over 100 retail nurseries, wholesalers, and landscaping contractors. Plants from Native Sons bring beauty to landscapes and gardens from San Diego to Portland. Native Sons is a licensed regional grower in California for the LiveRoof® Hybrid Green Roof System and the LiveWall® Planted Wall System. For more information, visit http://www.nativeson.com. Contact Native Sons at 805-481-5996.
About LiveWall®
Designed with a healthy regard for plants, LiveWall® (http://www.livewall.com) is the planted wall system that achieves simplicity and sustainability in harmony with nature. LiveWall is the result of four years of R&D by the professionals who created LiveRoof®, the superior green roof system. LiveWall supports plants as nature intended — roots growing down, stems and leaves growing up. With unsurpassed versatility to grow a diversity of plant types, LiveWall transforms ordinary walls into inspiring vertical landscapes. LiveWall is simple, effective and attractive. The system's WallTer® planter modules slide into the revolutionary RainRail® mounting tracks, which secure them in place and provide integrated mist irrigation. Just as with LiveRoof, licensed regional growers customize plant selection for every LiveWall project. They deliver the module inserts abundantly vegetated with locally cultivated plants that are full-grown and thriving for immediate success and enduring beauty. For more information, call 877-554-4065.
###