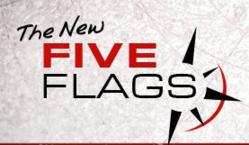 It only takes basic skills to start earning a living in an exotic location.
Austin, TX (PRWEB) January 24, 2013
Living abroad is a dream for many, but the newest AbsoluteRights.com article said the freedoms and liberties given to Americans are supposedly too much to pass up. Unfortunately, those freedoms and rights are slowly being taken away, whether it's through unwarranted tax hikes, powerful government authority, or a struggling economy. The article said Absolute Rights has created the New Five Flags, a program that shows people the advantages of a life abroad.
Unbeknownst to most, establishing a citizenship outside the United States opens up a wealth of new opportunities, and the article said it's a perfectly legal way to escape the restrictions and struggles many Americans face. In today's modern world, the advancement of internet capabilities and everyday technology reaches far and wide. Troubles at home can be put in the rearview mirror by learning from the Five Flags system, said the article.
The online piece said Five Flags shouldn't be viewed as unpatriotic. Instead, it takes a very American perspective on life. It's capitalistic, entrepreneurial, cultural, and above all meaningful. According to the article, becoming a globetrotter has always been a popular lifestyle. Now it's possible, and people can still manage a good living while doing it.
The article said there are many benefits to living in a place where taxes are low, labor is inexpensive, and businesses are booming. It only takes basic skills to start earning a living in an exotic location. The article also pointed out the modern luxuries that most people don't think exist outside the US. They do, and in some cases are even more advanced, said the article.
Gaining passports and citizenships to other countries can be a fantastic reward in itself, claimed the AbsoluteRights.com piece. The customs and lifestyles of every corner of the world have a lot to offer, and can help people become well rounded and educated in a multicultural way.
The article said incomes often go further in places other than the United States, and many of the same entertainment, food, and other comforts Americans have become accustomed too are available everywhere. The world is a truly global place, but so is business and commerce. People are sometimes amazed at the ability to buy Cheerios in China, or watch a new movie in Guatemala, said the article. Five Flags details a number of popular destinations, and explains the advantages to each.
Absolute Rights is always looking out for the freedoms and privacy of American citizens, which is why they have spent so much time investigating the ideas behind Five Flags. The program shows how people can virtually upgrade their citizenship and reclaim their personal rights, all while living abroad and making an honest living, said the article.