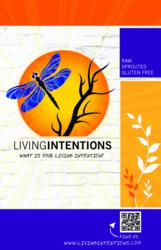 "Every time someone opens a bag of Living Intentions product, another live intention is blasted into the universe...powerful stuff." - Joshua McHugh, Owner and Co-Founder of Living Intentions
San Francisco, CA (PRWEB) March 07, 2012
Living Intentions new, powerful package design embraces the intention to make healthy food choices and celebrates an optimally balanced and vibrant lifestyle. Each package promotes a 'living intention' such as "Today I will eat my greens." And "Today I will share my love with my family."
"We want to encourage people to think about themselves and their position in the world," said Joshua McHugh, Owner and Co-Founder of Living Intentions. "Every time someone opens a bag of Living Intentions product, another live intention is blasted into the universe...powerful stuff."
With Living Intentions' outrageously tasty products, the choice to include raw, sprouted, and nutrient rich superfoods in your diet is a simple one. Each product is purposefully crafted to include the finest quality of ingredients, and gently air-dried using low temperatures to protect and preserve the raw and sprouted nutrient integrity.
"It is my intention to create the tastiest raw and sprouted food products on the shelves," says Joshua McHugh, "I personally design each product recipe from a gourmet culinary approach, ensuring bold flavors and exquisite taste sensations."
Living Intentions focuses on raw, sprouted, and gluten free products. Food in a raw, natural state contains essential enzymes, vitamins, and minerals. Sprouted foods ease digestion and increase vitality. With Living Intentions, you don't have to compromise the flavor to eat healthy, raw foods. The Living Intentions line includes sprouted superfood cereals, sprouted seasoned seeds and trail mixes, sprouted flours and a delicious line of sprouted and seasoned nut blends. Living Intentions' products can be found from coast to coast at stores such as Whole Foods, Sprouts, Raleys, Wegmans and many other natural food markets.
About Living Intentions
Living Intentions was founded on one simple premise: To nourish the world with the most nutritious and delicious, flavor-rich food. All of our innovative and nourishing products are developed with purpose and care. We source the best quality of ingredients without compromise to create unique and dazzling flavor combinations. No weird stuff added. Our low temperature, gentle air-drying process allows for enhanced nutrient integrity. Our products are Raw, sprouted, gluten free and outrageously delicious. Our diverse line of products includes Gone Nuts! raw and sprouted nut blends, superfood cereals, salad boosters, sprouted seeds and trailmixes, and more. For more information on Living Intentions, call 415-824-5483 or visit our facebook page at http://www.facebook.com/LivingIntentions. Our intention: Satiate the pallet at the highest vibration.